Metals production is a 24-hour-a-day, 365-day-a-year process, dependent on a consistent supply of raw materials and huge amounts of energy. High demand for iron ore, coke and scrap steel, increasing energy costs and industry consolidation have prompted steel producers to develop new methods for gaining efficiency to remain competitive.
Because steel and aluminum mills are in a highly competitive industry, the speed at which flat metal is produced is a key to a mill's success. But quality must be maintained, so measurement and control systems need to be in place. Metal gauging systems – used in hot strip mills, cold rolling mills and process lines – provide fast, accurate, noncontact and non-destructive thickness and coating weight measurements needed to achieve high product quality and maximum productivity.
We have addressed these issues in an ebook that discusses the part of the metals making process that involves cold rolling mills and hot strip mills. We cover the various applications where metal gauging systems are used, the typical thickness and rolling speeds for each mill type, the benefits of gauging system for flat metal production as well as hot coating weight measurements, and for simultaneous measurements. Learn about the various technologies used in an easy-to-understand manner, including XRF technology and infrared sensor technology, as well as the various types of equipment used.
The ebook will explain how gauging systems can provide precise, real-time measurements that meet the tightest specifications of any application while maximizing raw material use. Whether you're producing steel from iron ore or scrap, or whether your end product is more than several inches or less than a millimeter thick, learn how accurate thickness or coating weight measurement can help you supply the highest quality finished products.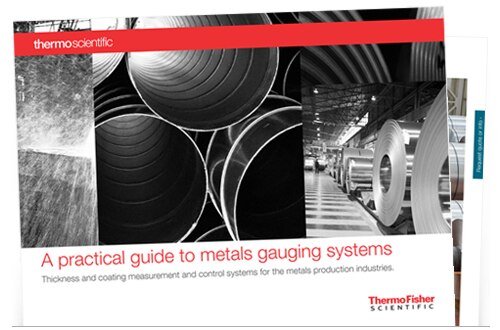 Download the ebook: A Practical Guide to Metals Gauging Systems