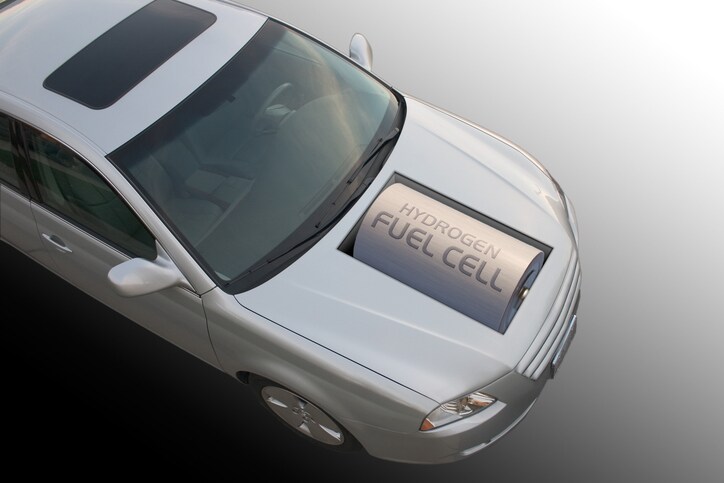 Platinum (Pt) is probably the most recognized of the Platinum Group Metals (PGMs) because it is used to make jewelry, but its main application is automotive catalytic converters, as well as other industrial applications such as the manufacture of fuel cells.
Fuel cells convert the energy of a chemical reaction directly into electricity, with heat and water as by-products. They are commonly associated with automobiles but have other power-generating applications. Fuel Cell Today defines fuel cells for transport as any units that provide propulsive power to a vehicle, directly or indirectly (i.e. as range extenders). This includes forklift trucks and airport baggage trucks, two- and three-wheeler vehicles such as scooters, light duty vehicles (LDVs), such as cars and vans, buses and trucks, trains, ferries, manned light aircraft, unmanned aerial vehicles (UAVs) and unmanned undersea vehicles (UUVs).
Fuel cell systems for stationary power generation have been installed in commercial buildings and soon may be available for residential use. Fuel cells are well suited for combined heat and power (CHP), uninterruptible power systems (UPS) and primary power units. Fuel cells are also being tested for use at landfill and wastewater treatment plants.
Now fuel cells may become even more powerful, and less expensive, thanks to a technique developed by Johns Hopkins researchers based on ancient Egyptian gilding, the practice of placing gold over a less expensive metal. As reported on ScienceDaily.com, the team applied a one nanometer thick coating of platinum to a core of much cheaper cobalt, potentially creating a crucial catalyst in new fuel cells that use far less platinum.
The article explains that earlier attempts to plate precious metals on non-precious materials failed due to oxidation of the non-precious metal. Johns Hopkins team successfully suppressed such reactions by introducing carbon monoxide, a gas molecule that strongly binds to cobalt, protecting it from oxidation. Not only did the cobalt-platinum nanoparticles use less platinum; they performed almost 10 times better than platinum alone. The study was published in Nano Letters.
Cutting fuel cell costs by using less platinum may have important implications in the future. According to the 2017 USGS Mineral Commodity Summary on Platinum, while PGM prices decreased in 2015, the introduction of more stringent automobile emission standards in some countries is expected increase demand for palladium, platinum, and rhodium for use in catalytic converters. Automobile production increased in developing countries, which in turn is expected to increase demand for PGMs beyond 2016.
Some of these PGMs may come from recycling. The USGS estimates about 125,000 kilograms of platinum, palladium, and rhodium were recovered globally from new and old scrap in 2016, including about 56,000 kilograms recovered from automobile catalytic converters in the United States.
Pyrometallurgical processes are favored for the recycling of PGM-bearing materials such as catalytic converters because of the high recovery rates. Primary PGMs must be separated from the base metals and impurities. Wavelength dispersive x-ray fluorescence (WDXRF) technology is well established for the analysis of the recovered metal in either scenario because it offers high sensitivity down to low atomic number elements, high repeatability, and element selectivity. WDXRF is also favored for its wide dynamic range and ability to achieve the performance levels needed for routine industrial applications.
Recommended reading:
Could Platinum Be the Next Superconductor?
Platinum Group Metals on the Move: Transportation and Energy Applications
Platinum Group Metal Recovery from Spent Catalytic Converters Using XRF