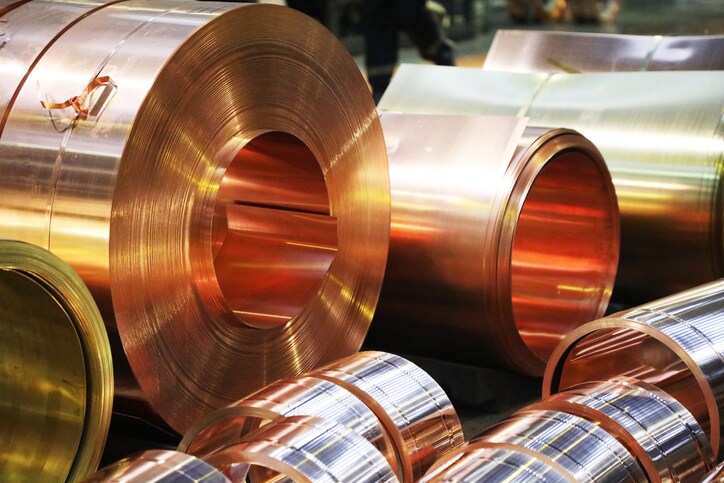 Using recycled metals is becoming more prevalent, so manufacturers must positively identify numerous alloys, rapidly analyze their chemical composition at material transfer points, and guarantee the quality of their product to their customers. To ensure they are shipping quality products, portable XRF analyzers can be utilized throughout the facilities to inspect all incoming metals against paperwork, for quality checks upon receipt of the raw material scrap, and for final analysis of the finished product before the material leaves the facility.
Copper is a highly recycled metal, so much so that CopperAlliance.org reports that 75% of copper produced since 1900 is still in use. According to the USGS 2017 Mineral Commodity Summary on Copper, old scrap, converted to refined metal and alloys, provided 170,000 tons of copper, equivalent to 9% of apparent consumption. Purchased new scrap, derived from fabricating operations, yielded 640,000 tons of contained copper. Of the total copper recovered from scrap (including aluminum- and nickel-based scrap), brass mills recovered 73%; copper smelters, refiners, and ingot makers, 21%; and miscellaneous manufacturers, foundries, and chemical plants, 6%. Copper in all scrap contributed about 31% of the U.S. copper supply.
The ready availability of copper is part of the reason why it was left off of a list of critical minerals published by the Department of the Interior (DOI) in May, 2017. According to an article on Earth Magazine, the minerals included on the list are those considered to be "both high national importance and at risk of supply disruption — the latter criterion was broadly defined to apply to minerals for which the U.S. is at least 50 percent net import reliant. For example, rare earth metals and cobalt." Copper didn't make the cut because although is plays a crucial role in electrical wiring, electric vehicles, and alternative energy, the U.S. has an abundant domestic supply from mines such as Bingham Canyon Copper Mine in Utah.
However, critics of copper's exclusion from the DOI list argue that because several elements on the critical list are produced as a byproduct of copper mining, copper itself is also critical. The Earth Magazine article explains:
In its report detailing the methodology used to assemble the critical minerals list, USGS acknowledged the co-production issue, noting that "strategies to increase the domestic supply of these commodities also should consider the mining and processing of the host materials because the enhanced recovery of byproducts alone may be insufficient to meet U.S. consumption." What exempted copper from the list, however, is not that it is at all inessential as a resource, but that there is a "very low risk of disruption of supply," says Steven Fortier, director of the USGS National Minerals Information Center, who led the effort to create the list. "The U.S. is a large domestic producer. We don't import any copper ore, and we import about a third of our metal … we have a fairly robust domestic industry," he says.
As of 2018, the U.S. has a net import reliance of 34 percent for copper, and historically the metal has never reached the minimum 50 percent required for criticality. However, with rapid technological advancement and growth, what actually is and isn't critical changes over time and often eludes simple categorizations.
For more information about copper, read Copper Compendium: The Whole Story.