Editor's Note:  In our last article, Calla Gold, a Santa Barbara jeweler specializing in custom jewelry design and jewelry repair, described gold plating and its best practices.  In this article, she describes the step-by-step process.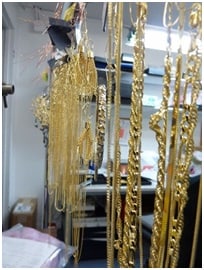 How Gold Plating is Done, Step by Step
by Calla Gold 
Gold plated – sometimes called electroplated – items are made with a layer of gold on the surface over another type of metal underneath. On some occasions, items are gold plated to try and fool buyers or cash-for-gold operators.  But for the most part, plating is done to enhance the look or wearability of a piece of jewelry.
Gold plating is an easy technique, but before beginning the process, make sure your plater follows the best practices for best plating results.
Step 1: Surface Preparation
The surface of the metal to be plated must be very clean, so oils or dirt must be removed, and the piece must be polished.  Surface preparation can include stripping, polishing, sandblasting, tumbling, etc. The use of solvents, abrasive materials, alkaline cleaners, acid etch, water, or a combination can be used. Typical methods to clean include acid or non-acid ultrasonic bath and a high rpm rouge wheel polishing. This is necessary for two reasons:
To improve adherence.  (Dust and dirt interfere with the plated metals adhering to the jewelry piece.)
To keep the plating tanks free of contaminants.
Step 2:  Cleaning
After the surface is prepared, and a visual inspection is done, electrocleaning, ultrasonic cleaning, or steaming, usually takes place. This second, deeper, cleaning step must follow to ensure metal is free of oils and dirt, which helps produce superior plating results. Steam cleaning blasts off any remaining oils that managed to hang on during the polishing phase.  Take special note of intricate jewelry that has many nooks and crannies.
Step 3: Rinse
The piece is rinsed thoroughly with water to remove any cleaning agents.
Step 4: Strike
A strike layer — also called a flash layer —  adheres a thin layer of high-quality nickel plating to the base metal.
In order to improve the bonding between the plating and the underlying surface, occasionally a buffer layer must be applied between them. With costume jewelry the base metal would contaminate the tanks with the gold in them, so a different metal is plated prior to the gold plating.
Additionally this step is used when the base metal, like copper, is known to atomically migrate outside of the gold layer to create spots of tarnish after plating. This strike step creates a barrier between the reactive base metal and the plated metal. This extends the life of the bright gold plating.
Step 5: Rinse Again
The piece is rinsed thoroughly with water to remove any cleaning agents.
Step 6: Base Coat
If a base coat below gold is used, it is usually nickel.There can be many layers of plating done on one particular piece. For example a gold-plated silver article is usually a silver substrate with layers of copper, nickel, and gold deposited on top of it.
Step 7: Final Coating
With time, temperature and voltage carefully controlled, the piece is submerged into the plating solution to attract ions of gold or the final metal that will show on the surface. Different metals require different voltages and temperatures.
The items to be plated are hung from a cathode bar, which is a pole with a negative electrical charge going through it. The pieces of jewelry connected to the cathode bar are also negatively charged. When the jewelry items are submerged in the tank an electrical charge is applied and the negatively charged jewelry attracts the positively charged ions present in the solution. The positively charged metal ions are submersed in the solution bath. When the cathode bar is lowered into the bath the metal jewelry gets plated.
The plating thickness can be controlled by adjusting the immersion time in the plating tank.
Step 8: Final Rinse
Rinse off the pieces with water and then hang them to dry.
Step 9: Drying
The pieces are hung, preferably not touching each other, in order to dry.
Step 10: Repeat – if Necessary
Occasionally, the immersion step into the chosen plating metal needs to be repeated. In order to improve the bonding between the plating and the underlying surface, occasionally a buffer layer must be applied between them.
After that step, rinsing and drying needs to be done.
---
Related Articles:
---
Additional Notes:
There are different metals used as the base metal in costume jewelry. Some of these base metals would contaminate gold plating tanks. It is for this reason that a different metal is plated in a prior step to the gold plating.
Gold plating has varying levels of 'clingyness' to different metals. For example gold has an affinity to silver. This translates to gold plating over silver lasting longer than gold plating over various base metals. Gold plating is long lasting over a base of gold. For example 18kt gold plated over 14kt gold lasts longer than 18kt yellow gold over sterling silver. So whatever metal is being used for the base in gold plating, it plays a significant role in how long the plating treatment will last.
If you would like to see pictures of the plating process, visit Calla's website (see below).
As you can see, the naked eye may not be able to tell exactly which metal makes up a piece of jewelry. To be absolutely sure of the value of the precious metals you buy, use, and sell, you can utilize x-ray fluorescence technology.  XRF precious metals analyzers are fast, simple, nondestructive solutions for gold analysis. You can measure the content of all gold and precious metals, as well as determine the presence and concentration of other trace, alloying elements, and dangerous heavy elements, which could impact health and the valuation of your pieces.
Reader's Question:  I have a pair of earrings and I would like to have them gold plated. I have noticed a slight difference in color were the prong is soldered to the base of the earring. Will the gold plating cover the color difference making just that spot more uniform?
Answer:  My short answer to the question is that gold plating is immersive and will be the same color regardless of subtle color differences on the underlying metal. With silver that has been gold plated, when it oxidizes, that can cause the gold plating to darken in spots. If the other color metal in your earrings is a metal that oxidizes. Then it is possible that over time that oxidation could show up as darker, like a shadow in the gold plating.
About the Author:
Calla Gold, owner of Calla Gold Jewelry, has been a Santa Barbara personal jeweler since 1983, specializing in custom wedding ring design, jewelry repair, ring resizing and antique jewelry restoration. Her motto is, "Wear it, don't warehouse it!" Calla shares her tips and advice on the topic of jewelry regularly on her blog and social media. She is a contributor to MJSA (a leading resource in jewelry making and design). Calla Gold is a jeweler without walls, coming to your home and office by appointment or over distance on the Internet. For more information on Calla Gold Jewelry, visit www.callagold.com