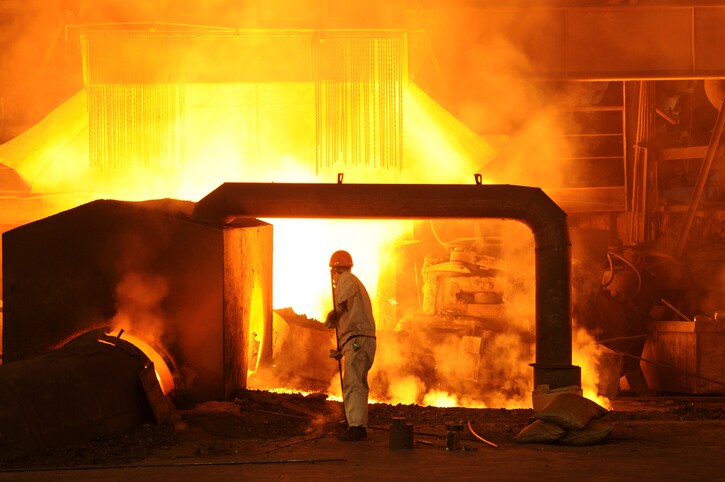 The only source of primary iron is iron ore.
The USGS defines iron ore as a mineral substance which, when heated in the presence of a reductant, will yield metallic iron (Fe).   It almost always consists of iron oxides, the primary forms of which are magnetite (Fe3O4) and hematite (Fe2O3).  It's  a major ingredient in steel.  Here's what the USGS has to say about iron ore:
Iron ore is the source of primary iron for the world's iron and steel industries. It is therefore essential for the production of steel, which in turn is essential to maintain a strong industrial base.  Almost all (98%) iron ore is used in steelmaking.  Iron ore is mined in about 50 countries.   The seven largest of these producing countries account for about three-quarters of total world production.   Australia and Brazil together dominate the world's iron ore exports, each having about one-third of total exports….
U.S. iron ore production was estimated to have increased in 2018 owing to increased steel-mill-capacity utilization and higher steel demand. Raw steel production increased to 86.6 million tons in 2018 from 81.6 million tons in 2017.
But before all that iron ore can be turned into steel, it must go through the sintering process. Sinter is the primary feed material for making iron and steel in a blast furnace.
We recently wrote about sintering in our sister blog, Advancing Mining. Read the article to learn more about how sinter quality begins with the mined iron ore and the proper selection and mixing of the raw materials.
We also discussed how during the iron ore sintering process in iron and steel manufacturing, an online analyzer can be used to determine the elemental composition of the bulk raw materials in sinter feed and we answered the most frequently asked questions about sinter and sinter analysis technology on the Online Elemental Analysis of Sinter FAQs page of our website.
If you want to know more about sintering and the analysis of materials in the process, watch this three-minute video on the sinter process (scroll to the bottom of the page).
Additional Resources: