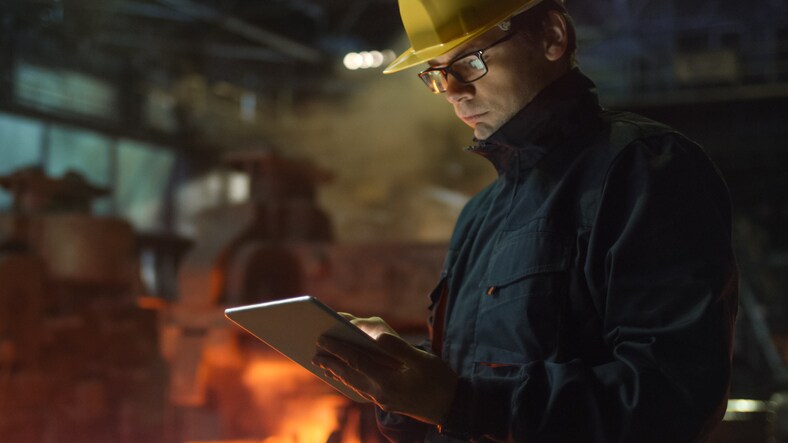 Metallurgical Engineering, as described by the University of Utah's College of Mines and Earth Sciences Department of Metallurgical Engineering, involves the study, innovation, design, implementation, and improvement of processes that transform mineral resources and metals into useful products. The college breaks metallurgical engineering into three programs: physical metallurgy, mineral processing, and chemical metallurgy.
In this article we will address physical metallurgy, which applies to the use of metal science to develop and use metals and metallic alloys for the millions of manufacturing activities that are undertaken every day. These activities help keep our modern society supplied with the goods that it needs and wants.
Using Metallurgical Testing to Create New Products and Increase the Quality of Others
Metal alloys are created to impart both aesthetic and practical properties such as strength, flexibility, machinability, and durability. It can be a mix of different metals, or a mixture of a metal with a non-metal element. Some of the more well-known alloys are brass, which is a mixture of copper and zinc, and bronze which is a mixture of copper and tin. White gold, which is used extensively in the jewelry industry, doesn't occur naturally; it gets its silvery hue by being alloyed with white metals such as silver, nickel, manganese, platinum, or palladium.
The World Steel Association reports that steel — which is used in engineering and construction, transportation, consumer goods, earth-moving equipment, and almost everything in between — is an alloy of iron and carbon containing less than 2% carbon and 1% manganese and small amounts of silicon, phosphorus, sulphur and oxygen. According to the organization, there are more than 3,500 different grades of steel with many different physical, chemical, and environmental properties, depending on the alloyed material.
Titanium is added in steel alloys to reduce grain size and as a deoxidizer, and in stainless steel to reduce carbon content. Stainless steel contains the alloy chromium and can also include nickel or molybdenum.
Titanium is often alloyed with aluminum (to refine grain size), vanadium, copper (to harden), iron, manganese, molybdenum, and other metals.
Our modern modes of transportation – cars and airplanes – have benefited greatly from metallurgy. For instance, aluminum has favorable properties for automobile manufacturing, and is now second only to steel as the most used material in vehicles. Factors such as corrosion resistance, light weight, high strength, and ease of fabrication are the reasons why so many components are now being made from aluminum alloys. Magnesium may be the key to lightweight automotive metal because it is an abundant metal that is four times lighter than steel.
Micro-alloyed (MA) steels take low-carbon mild steel and add "micro" alloy concentrations. To reach their intended properties, niobium, vanadium, and titanium are added to strengtheners such as boron, molybdenum, nickel, chromium, and copper. The steels can be found in oil and gas line pipes, heaters, reactors and many additional industrial applications, and they are estimated to comprise about 12% of the world's total steel production.
Metallurgical Testing to Ensure You Have the Right Metal for the Job
Getting the right alloy "recipe" is especially important in industrial applications such as the manufacture of aerospace and automotive parts. Costly incidents can result when incorrect or out-of-specification metal alloys enter the manufacturing process, resulting in defective critical components.
If the titanium used in the manufacture of propeller shafts or other parts designed for underwater use is not alloyed with the right metal for the application, the parts won't have the needed corrosion resistance. Similarly, titanium must be alloyed with precise amounts of platinum, palladium, or ruthenium to make pipes that can withstand harsh chemical processing environments. (Read more in Titanium: This Lightweight Does Some Heavy Lifting in the Metals Industry.)
There are thousands of different alloys, and they all must be composed of only the specific metals designed for that particular component. Even minor differences can be catastrophic if they lack the appropriate elements, or contain a different composition of elements. The structural integrity of the vehicle or aircraft is dependent upon the metallurgical testing to ensure the correct alloy is used in specific parts. (Read Where are Automotive Manufacturing Materials Heading?)
Much of the initial metallurgy to produce a new alloy is done in labs, but metallurgical testing and verification should be done all throughout the manufacturing process.
Metallurgical Testing with Handheld XRF Analyzers
Metallurgical testing and alloy material verification for quality assurance and quality control (QA/QC) is critical to product integrity, and can affect the safety of products or components.
Handheld X-ray fluorescence (XRF) is a proven technology for the elemental analysis of specialty alloys to ensure the correct alloys are combined in the right percentages of alloying elements, and the finished material meets precise manufacturing specifications. Metallurgical testing using XRF technology consists of irradiating a solid, powder or liquid sample with high energy x-rays from a controlled x-ray tube, which results in the emission of a fluorescent (or secondary) x-ray. This fluorescence is unique to the elemental composition of the sample. Because each element has its own characteristic "fingerprint," an XRF analyzer can tell you with very high precision what elements are in the sample, and in what quantity.
(If you want to learn more about XRF technology, but you are not a scientist, download our free ebook: Portable XRF Technology for the Non-Scientist )
Metallurgy in the Mining Industry
Just one last thought about metallurgy: before manufacturers get access to the metals to produce their products, that metal has to be mined. (Although much of the metals we use today are recycled from scrap, their origination is still in mining.) Metallurgical accounting is used to account for the metal plant operations, metal recovery rates and material losses as it pertains to the performance of the mine and of mining operations. We previously wrote about the importance of online analysis in metallurgical accounting. Metallurgical accounting has become a focus of many metals industries, from mining to foundries to refineries because it includes everything from the mineral resource, to where the metal is transferred from the mine to the concentrator, the smelter, the refinery, and finally to the financial accounts.