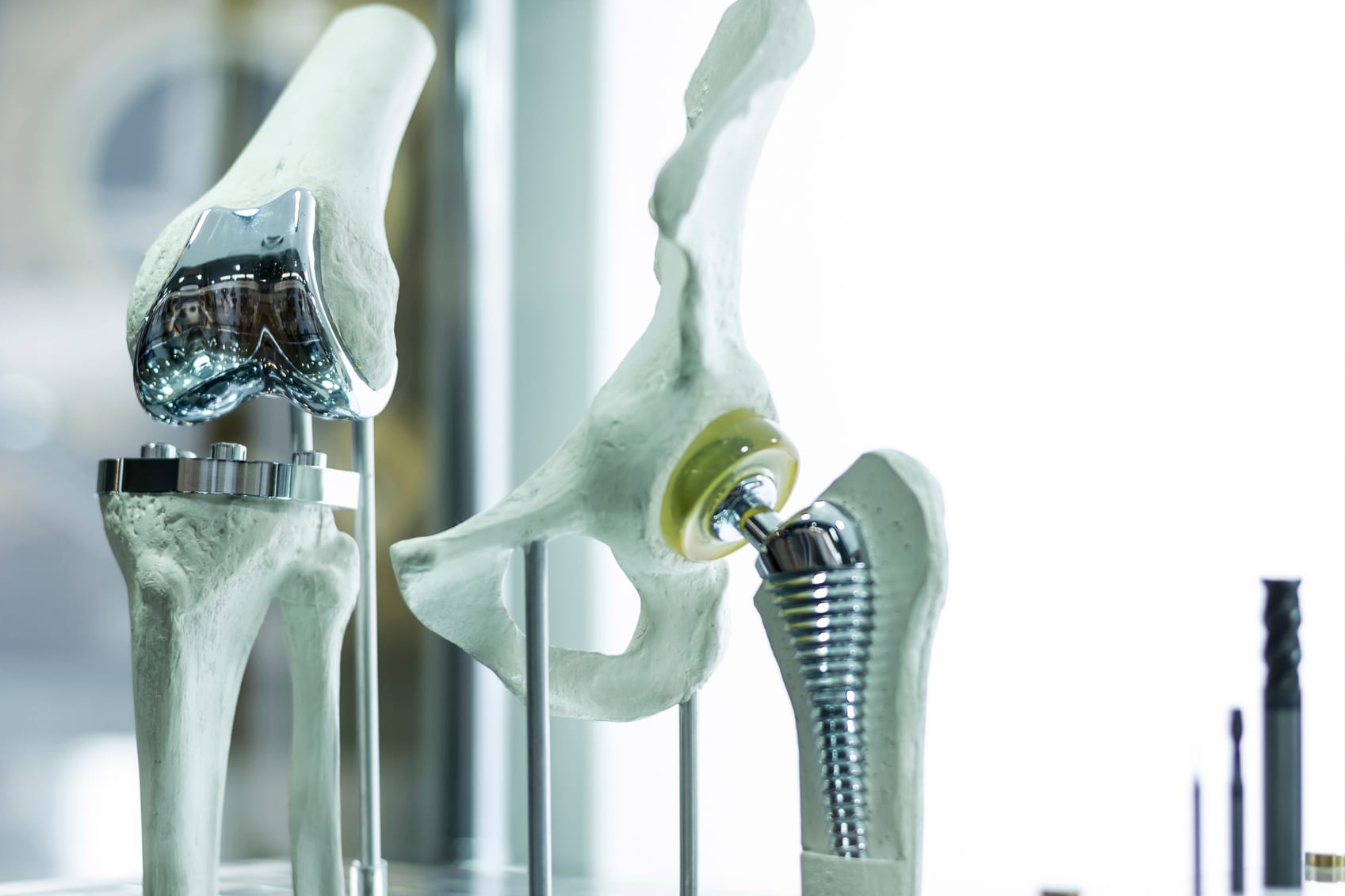 Versatile titanium (Ti) is used in a wide array of industries, such as aerospace, paint, sporting goods, and medical implants. While most titanium is refined into titanium dioxide (TiO2) to give paint, paper, and plastic a white color, it's highly valued in the metals industry for its high tensile strength, light weight, extraordinary corrosion resistance, and ability to withstand extreme temperatures. It's as strong as steel but 45% lighter, and twice as strong as aluminum but only 60% heavier.
An important application for titanium is knee and hip joint replacement implants. The metal is not only strong and durable but also nontoxic and biocompatible. The Titanium Information Group explains why titanium is the ideal material for surgical implants in one of their data sheets:
"Corrosion of implanted metal by body fluids results in the release of unwanted metallic ions, with likely interference in the processes of life. Corrosion resistance is not sufficient of itself to suppress the body's reaction to cell toxic metals or allergenic elements such as nickel, and even in very small concentrations from a minimum level of corrosion, these may initiate rejection reactions. Titanium is judged to be completely inert and immune to corrosion by all body fluids and tissue, and is thus wholly biocompatible."
Recently, scientists at Rice University discovered that titanium implants can be made even better with gold. According to Phys.org, the researchers developed a 3-to-1 mixture of titanium and gold with a specific atomic structure that imparts hardness. Prof. Emilia Morosan described the material as "…about 3-4 times harder than most steels…It's four times harder than pure titanium, which is what's currently being used in most dental implants and replacement joints."
Morosan and study co-author Eteri Svanidze are the first to document the material's remarkable properties, which they discovered while working on another experiment with titanium and gold.
"We published a study not long ago on titanium-gold, a 1-to-1 ratio compound that was a magnetic material made from nonmagnetic elements. One of the things that we do when we make a new compound is try to grind it into powder for X-ray purposes. This helps with identifying the composition, the purity, the crystal structure and other structural properties."
One of the compounds for the experiment was a mixture of three parts titanium and one part gold that had been prepared at high temperature and which produced an almost pure crystalline form of the beta version of the alloy that is four times harder than titanium.
Tests by colleagues at the University of Texas MD Anderson Cancer Center in Houston determined that the new alloy was even more biocompatible and wear-resistant than pure titanium.
The study was published in Science Advances.
One method of X-ray analysis used for compositional identification is X-ray fluorescence (XRF) spectroscopy. XRF analysis is significantly improved by proper sample preparation; grinding a sample into a powder, for example, creates a homogeneous, fine-grained sample that contains more consistent particle sizes. A sample must represent all of the material being analyzed; non-homogenous samples contain different concentrations of elements at different points across the sample, so the analysis may not indicate what is really in the material of interest.
Read Titanium Base to learn more about the analysis of this versatile metal.