A year and a half ago, Phenom-World was acquired by Thermo Fisher Scientific, strengthening the close partnership that has existed between the two companies since the first Phenom desktop scanning electron microscope (SEM) was launched in 2006. Today, we're pleased to announce that the Phenom-World blog will be incorporated into the Accelerating Microscopy blog.
For those who aren't familiar, Phenom desktop SEMs make it easy to create high-quality images in a very fast way, thus helping scientists and lab personnel to speed up their work. To be more specific, with a Phenom systems you can generate high-resolution images in less than a minute. And just like a smartphone, these instruments are extremely advanced on the inside, yet easy to use 'on the outside' —even for users with minimal lab skills.
The Phenom desktop SEM takes scanning electron microscopy to the next level with a highly compact design built to fit on a desktop. A versatile microscope that requires less space and maintenance than traditional floor models, it is used for a very broad range of professional and academic applications including earth sciences, electronics, forensics, industrial manufacturing, life sciences, and materials science.
Thermo Fisher offers three platforms of the Phenom SEM to meet different user needs:
The Phenom ProX provides high performance and very fast results for routine SEM imaging and analysis. It includes a fully integrated EDX detector that allows elemental analysis. The current generation-5 version offers excellent resolution and support a wide range of applications, including samples sensitive to charging and beam damage.
The Phenom XL is specifically designed for automated analysis of large or multiple samples in the same load cycle.  It is equipped with a chamber that allows analysis of samples up to 100 x 100 millimeters and provides a unique loading mechanism that ensures fast results. Just like the ProX, it is equipped with a long lifetime and high-brightness CeB6 source which enables excellent imaging.
The award-winning Phenom Pharos is the first desktop SEM on the market to include a so-called field emission gun (FEG), which allows one to create very high-resolution images. As with the other Phenom models, the Phenom Pharos is easy to operate and incorporates advanced hardware and software architecture for fast time-to-image and easy handling. The Phenom Pharos thus makes the benefits of an FEG source accessible to everyone.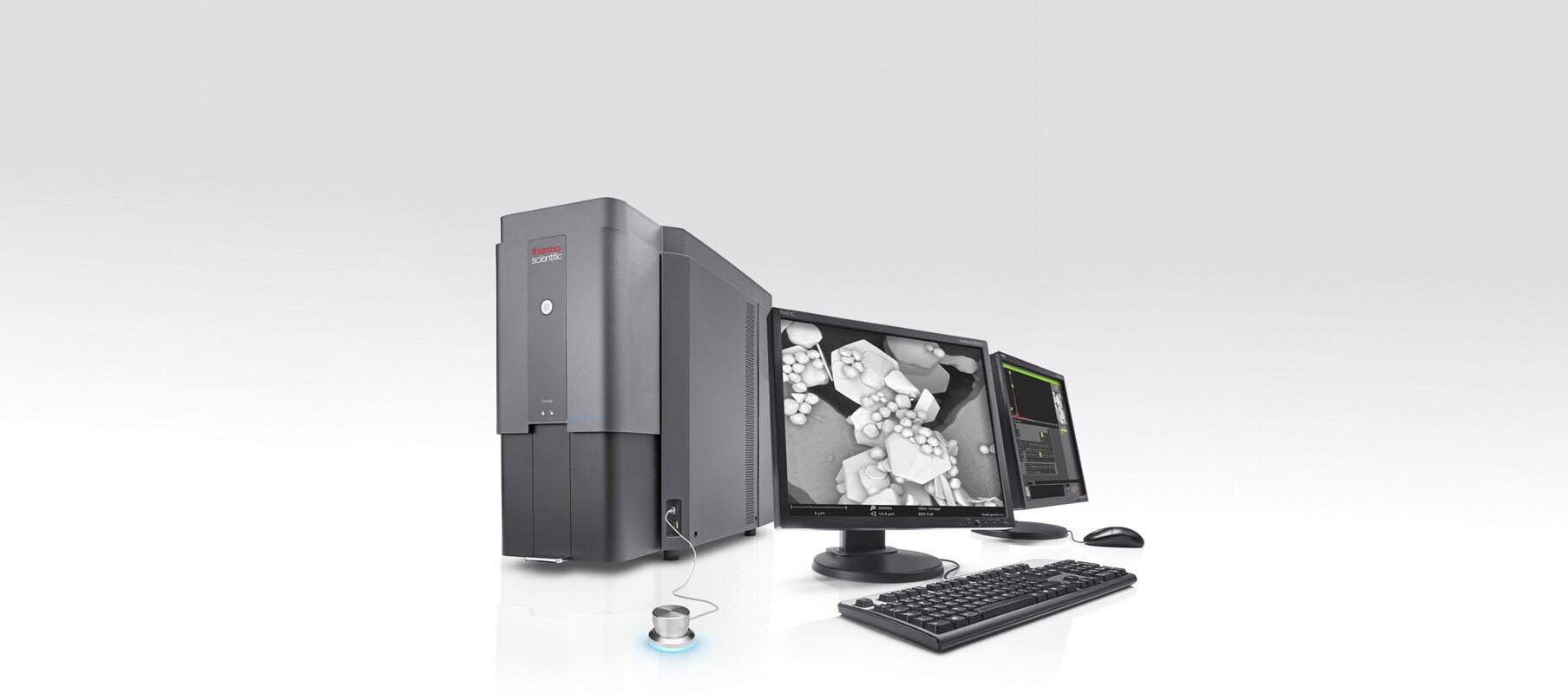 The Phenom Pharos Desktop SEM brings the high-resolution capabilities of a field emission source (FEG) to a broader base of users.
By integrating the Phenom desktop SEM into Thermo Fisher's product line-up, we now offer a complete portfolio of SEM solutions from entry-level desktop instruments to high-end floor models.
We look forward to bringing you more information about Phenom desktop SEMs over the coming weeks and months. To learn more, please watch this video to see how our Phenom XL Desktop SEM pushes the boundaries of compact desktop SEM performance:
Jos Maas is senior business director, Phenom Desktop SEM at Thermo Fisher Scientific.
Subscribe now to receive new Accelerating Microscopy posts straight to your inbox. For more information about Thermo Scientific microscopy instruments, visit thermofisher.com/em.
To learn more about desktop SEMs, fill out this form to speak with an expert.