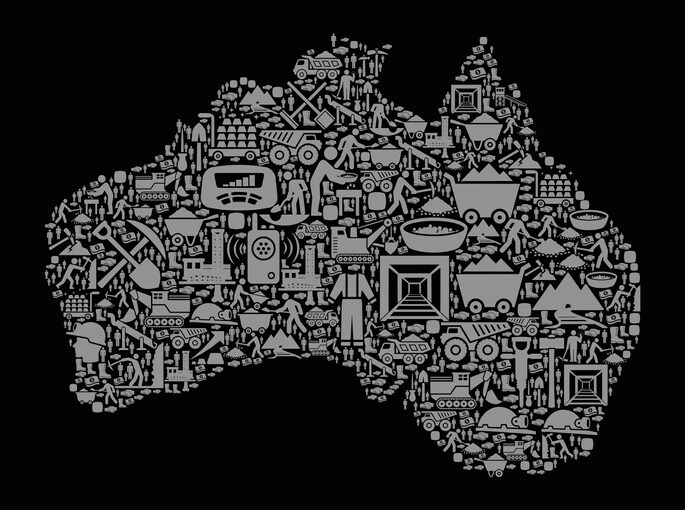 Mining Technology reports that the Australian Resources and Energy Group (AMMA) predicts the country's mining sector will need 21,000 new workers by 2024. The group expects mining plant operators to experience the most demand, with a total of 8,660 operators required across the country's 57 total projects. The report states that Western Australia (WA) accounts for more than 50% of this demand. WA contains eight of Australia's nine new lithium mining projects, which has ensured the country remains one of the world's largest producers of this critical mineral.
The article goes on to explain that AMMA's modelling shows iron ore will account for 29% of Australia's new operational workforce demand, with coal at a close second with 24%. Three coal projects in Queensland- Alpha Coal, China First and Kevin's Corner– could be among the largest coal mines in the world, which AMMA predicts could see the state's direct mining workforce exceed 80,000 for the first time. Gold and copper also remain important parts of Australia's mining sector, accounting for 17% of new operational workforce demand.
The report also states that the shift to digitalized infrastructure and other technological developments will require a significant investment in electrical and maintenance roles. The Advancing Mining post, Is Automation the Future of Mining? discusses the potential for new mining career opportunities as a result of automation and digital technologies, such as new roles monitoring and controlling automated processes, and mine site safety innovations where personnel can operate mining equipment from a safe distance.
Experienced mining professionals are in limited supply worldwide, since many left the industry in leaner times. The previous Advancing Mining blog post, Oil and Gas Rigs Are Coming Back- Will the Employees?explored this theme in the oil and gas industry, revealing that the natural gas surplus brought on by the rise of fracking, combined with constant OPEC output has caused prices to decline, putting some rigs, and employees, out of commission. Although the CNBC report, Energy jobs: Oil and gas industry could hire 100,000 workers – if it can find them, suggested jobs will return in the next few years as oil prices recover, the report also states that many former oil and gas industry employees may have already found more stable places to go.
According to Careerplanner.com, there are still plenty of other job options in mining, including petroleum geology, engineering geology, geochemistry, mineralogy, and stratigraphy.
For more information about mining topics, visit the Cement, Coal & Minerals online learning center featuring content on all aspects of the mining industry from exploration through processing, mineral analysis, and bulk weighing, monitoring, and sampling systems, and more.
Recommended reading:
Could a Career in Mining Geology Be for You? Part 1
Could a Career in Mining Geology Be for You? Part 2: Advancing Your Mining Career