We have previously written about getting proper XRF radiation safety training before using an XRF instrument. These handheld XRF instruments for metal alloy verification are safe if used properly.  However, extra precautions must be taken for certain sample types. As mentioned in previous articles, you should never hold samples during analysis or place any part of your body in the path of the primary x-ray beam. For most sample types the sample itself absorbs the primary beam.
Under conditions of normal and proper use, operators can be exposed to small amounts of secondary (or "scattered") radiation. Scattered radiation from a handheld XRF analyzer is low-level radiation that emanates from the sample being measured. This radiation emanates from the sample only during the measurement period. This low level radiation is a result of primary beam radiation scattering in the sample and primary beam radiation inducing the production of fluorescent x-rays in the sample.
Most samples can be analyzed safely on a work surface with the primary beam pointing down. However, when working with challenging sample types, you must consider transmission of the primary beam through a work surface if you have chosen not to use a test stand during analysis. The image below illustrates the hazard that can be present if you are working in a seated position while analyzing sample types that do not cover the measurement window or absorb the majority of the primary beam radiation.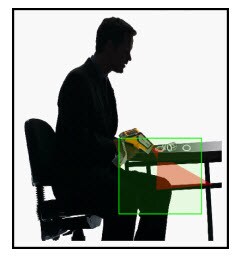 Notice that the operator's legs are now in the primary beam path. As discussed earlier, you should always be aware of the location of the primary beam and take proper precautions to ensure that no part of your body is exposed to the unshielded primary beam radiation during analysis. In the example of an operator who needs to routinely sit and analyze small, thin, or light samples, shielding can be added to the table, if necessary, to prevent exposure to the legs. A sheet of steel affixed to the underside of the table can be used to shield the primary beam. It takes about 6.5 mm (1/4 inch) of steel to fully shield the primary beam at maximum tube power settings.
Here are some additional recommendations on safely analyzing sample types that might not absorb the entire primary beam:
Small Samples
A small sample would be any sample that is smaller than the measurement window. Small samples present a unique risk because they don't block and absorb the primary beam. Often a small sample can be placed on a work surface such as a counter-top for safe analysis, but a signal from the work surface may interfere with your measurement. An XRF analyzer test stand accessory is an effective way of analyzing small samples accurately and safely.
Irregularly Shaped Samples
Irregularly shaped samples (i.e., very non-flat surfaces) might not entirely cover the window where the primary beam exits. A test stand or back scatter shield is a safe way of reducing your radiation exposure while effectively analyzing irregularly shaped samples.
Low Density Materials (such as plastics)
X-rays are absorbed more in materials of higher density and/or atomic mass (i.e., heavy materials). Conversely, x-rays scatter and escape more when they interact in low density/mass (i.e. lighter) materials such as aluminum, soil, and especially plastic. This results in higher scatter dose rates when these lighter samples are analyzed. This result is demonstrated in the scatter radiation data example provided in Table 1 below. If you are frequently handling light material samples, you should consider the use of test stands, or the equivalent.
Human dose to radiation is typically measured and reported using the unit Sievert (Sv). The allowable limit for occupational exposure in the U.S. (and many other countries) is 50 mSv per year for deep (penetrating) dose and 500 mSv per year for shallow (i.e., skin) dose or dose to extremities (e.g., hands). Deep, shallow, and extremity exposure to an operator from a properly used analyzer should be less than 2.0 mSv per year even if the analyzer is used as much as 2,000 hours per year. The only anticipated exceptions to the 2.0 mSv per year estimate of maximum annual dose are: 1) routine and frequent analysis of plastic samples without use of a test stand, or similar additional protective measures, or 2) improper use where a part of the body is in the primary beam path.
Editor's Notes:
WARNING Never operate the device with a part of your body in the primary beam path or with the primary beam path directed at anyone else.
If you are a Thermo Fisher Scientific customer and have a safety emergency with your Thermo Scientific

TM

NitonTM handheld XRF analyzers, please call our service department at 800-875-1578 for further instructions.
View the above-named ebook here: Portable XRF Technology for the Non-Scientist