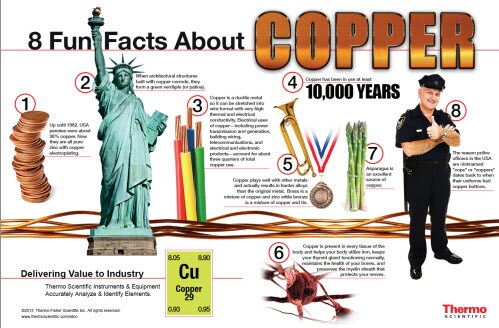 According to the United States Geological Survey (USGS) — a science organization that provides impartial information on our natural resources — copper was one of the first metals ever extracted and used by humans, and it has made vital contributions to sustaining and improving society since the dawn of civilization:
Copper occurs in many forms, but the circumstances that control how, when, and where it is deposited and mined are highly variable. As a result, copper occurs in many different minerals.
In the 1990s, the USGS conducted an assessment of U.S. copper resources and concluded that nearly as much copper remained to be found as had already been discovered. Specifically, the USGS found that about 350 million tons of copper had been discovered and estimated that about 290 million tons of copper remained undiscovered in the United States.
Copper is also found in many items we see daily. Take a look at this infographic and discover
8 Fun Facts about Copper.