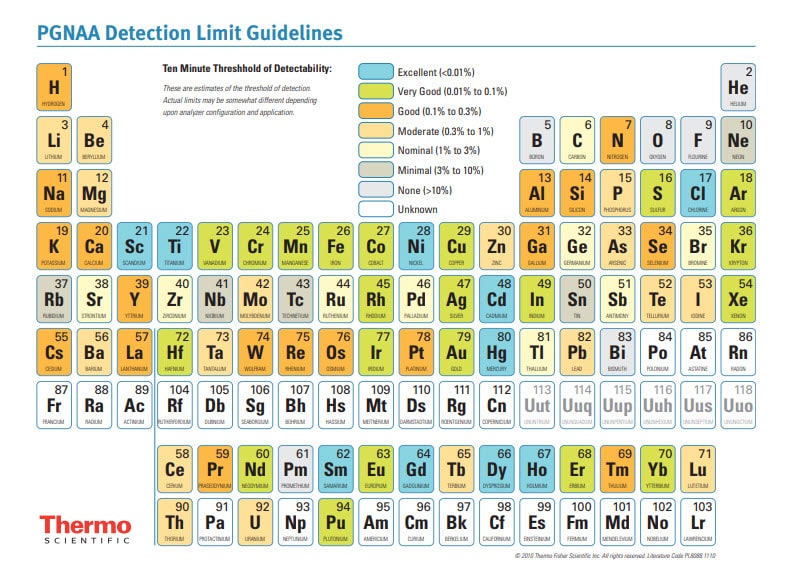 We previously wrote about how measuring and managing raw material quality in a cement, coal, or mineral process can be challenging and we gave some tips on how to manage your cement or coal mix with PGNAA technology.
Online analysis systems based on Prompt Gamma Neutron Activation Analysis (PGNAA) and Pulsed Fast Thermal Neutron Activation (PFTNA) technology help coal and cement producers proactively address process variations and ensure more consistent raw material composition and quality.
PGNAA and PFTNA are non-destructive analysis technologies that work by bombarding sample material with neutrons. Neutrons interact with elements in the sample, which emit secondary prompt gamma rays. These gamma rays are collected and measured with a high resolution gamma ray spectrometer. The gamma ray spectrum is analyzed to determine information about specific elements.
While these technologies can measure a number of elements, it is important to understand that there is a threshold of detection for each element.  The concentration of the elements within the material that is to be measured must be understood to determine if measurements can be made to the required accuracy.  Elements that have low concentrations, may or may not be able, to be measured.  We've made it easy for you to see the PGNAA Detection Limit Guidelines in one document.  Here's an infographic with the PGNAA Detection Limit Guidelines based on a ten-minute threshold of detectability.
Update: Visit the Cement Production center on our website, with free resources to help you optimize your cement making process.