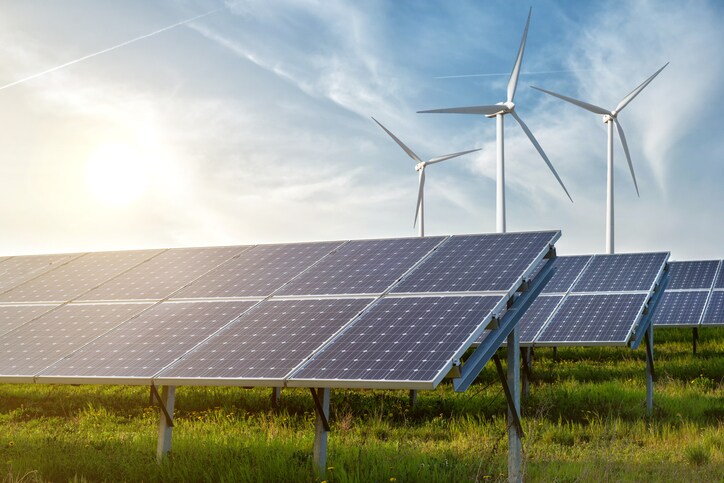 Recently we reported on the Rocky Mountain Institute's (RMI) Sunshine for Mines (SfM) strategy to make legacy mine sites useful—and profitable—again. RMI's insight brief, A Second Life for Legacy Mining Sites, says closed mine sites can be used for innovative renewable energy and storage applications such as independent power plants, storage facilities, or value-added grid-service providers, generating new revenue streams for inactive mine sites.
Not only can inactive mine sites provide locations for renewable energy, the components themselves—wind, solar, and energy storage batteries—are dependent on mining for the metals required to build them. The World Bank study, The Growing Role of Minerals and Metals for a Low Carbon Future, highlights the critical role that mining and metals will need to play in the global zero carbon transition over this century, with a specific focus on the position and capacity of mineral-resource-rich developing countries to supply these minerals.
The study focuses on wind, solar, and energy storage batteries, which play a key role in energy sources offering low/zero Greenhouse Gas (GHG) emission levels. Metals which could see a growing market include aluminum (including its key constituent, bauxite), cobalt, copper, iron ore, lead, lithium, nickel, manganese, the platinum group of metals, silver, steel, titanium, zinc, and rare earth metals including cadmium, molybdenum, neodymium, and indium. The report maps production and reserve levels of relevant metals globally, focusing on implications for resource-rich developing countries. It concludes by identifying critical research gaps and suggestions for future work.
The link between mining and renewable energy was reinforced by CJ Ritchie, assistant deputy minister at British Columbia's (B.C) Ministry of Jobs, Trade and Technology, during her November 29 speech at the Naturally Resourceful event hosted by Resource Works. According to an article on mining.com, Ritchie said that global recognition of the need to shift to a low-carbon economy has drummed up interest in clean technology, such as solar power and zero-emission vehicles, and that the manufacturing of those technologies will require metals, such as copper and zinc, that are abundant in B.C. mines.
"The demand for those metals in clean technology is really driving a new kind of interest and a new kind of demand in the clean tech industry," she said.
The mining.com article also presents remarks by Joy Romero, vice-president of technology at Canadian Natural Resources Ltd., who discussed the need for more collaboration between universities, the tech sector, and energy companies to reduce the carbon footprint of fossil fuels. She estimated the oil and gas industry is now spending $1.3 billion annually on research and development to increase its productivity and reduce its carbon footprint. But when travelling across Canada, Romero said she has repeatedly come across experts who have independently discovered the same breakthroughs as researchers they are not collaborating with.
Recommended reading:
Automotive Manufacturer Combines the Best of Steel and Aluminum
Copper Compendium: The Whole Story
Can an XRF Spectrometer Accurately Measure Zinc, Lead, and Iron in Sulfide Ores?