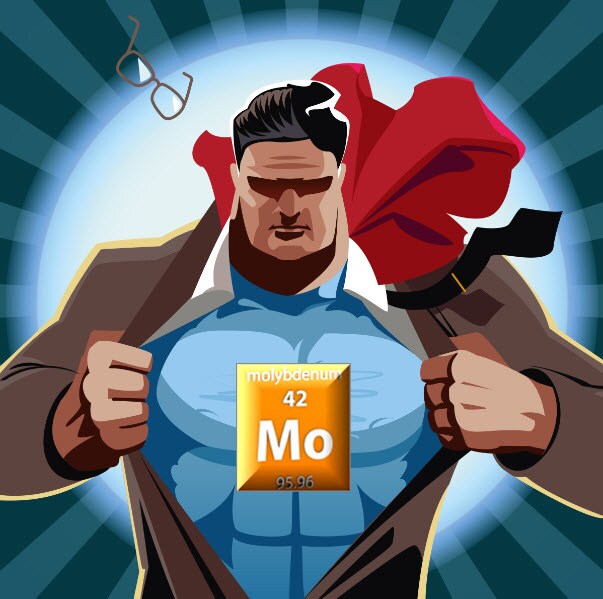 It's not one of the better known elements, but you can't live without it. It's molybdenum (Mo), an essential element for humans, animals, and plants, as well as an important element in industrial applications. Molybdenum is a key alloying element that imparts strength, wear- and corrosion- resistance to steel. This versatile element is also used to make heating elements, petroleum industry catalysts, inks for circuit boards, pigments and electrodes. View the infographic, 9 Fast Facts About Molybdenum. The main molybdenum ore is molybdenite (molybdenum disulfide). A recent article on Phys.org describes a new potential application for this material:
Now a team of researchers from the University of California, Riverside and Rensselaer Polytechnic Institute discovered that molybdenum disulfide (MoS2), a semiconductor material, may be a promising candidate to make thin-film transistors for extreme temperature applications. In a paper published this week in the Journal of Applied Physics, the researchers report the fabrication of molybdenum disulfide thin-film transistors and their functional performance at high temperatures, demonstrating the material's potential for extreme-temperature electronics.
Molybdenum does not occur in nature in its native state. It is only found chemically combined with other elements, particularly sulfur. According to the U.S. Geological Survey 2015 Molybdenum Mineral Commodity Summary, there are about 5.4 million tons of molybdenum in the United States and about 14 million tons in the rest of the world, an adequate world supply for the foreseeable future. In the U.S., iron and steel and superalloy producers accounted for about 74% of the molybdenum consumed in 2014. As an alloying element in steels and cast irons, molybdenum is unmatched; industry has sought to develop even more materials that benefit from the alloying properties of the metal. Potential substitutes for molybdenum include boron, chromium, niobium (columbium), and vanadium in alloy steels; tungsten in tool steels; graphite, tantalum, and tungsten for refractory materials in high-temperature electric furnaces; and cadmium-red, chrome-orange, and organic-orange pigments for molybdenum orange. While molybdenum supplies are abundant, because it is such a valuable alloying element, new supplies are still being sought. In October 2015, American CuMo Mining Corporation announced that they had received Federal approval to do exploratory drilling northeast of Boise, Idaho to determine if molybdenum, copper and silver exist in sufficient quantities to go forward with an open-pit mine. The company believes the area contains more than 6 billion tons of metals worth close to $100 billion. The International Molybdenum Association web site describes the molybdenum mining process:
Molybdenite can occur as the sole mineralization in an ore body, but is often associated with the sulphide minerals of other metals, notably copper. The Mo content of viable ore bodies ranges between 0.01 and 0.25%.
Depending upon the minerals contained in the ore body and their quality, molybdenum mines are grouped in three classes:
Primary mines, where the recovery of molybdenite is the sole objective;
By-product mines, where the recovery of copper-bearing ores is the primary objective, and molybdenite recovery provides additional economic value; and
Co-product mines, where the commercial viability of the mine requires that both molybdenite and copper-bearing minerals be recovered.
Read the previous article Analyzing Concentrated Ore Samples of Molybdenum, Iron, and Copper with XRF  for more molybdenum info.