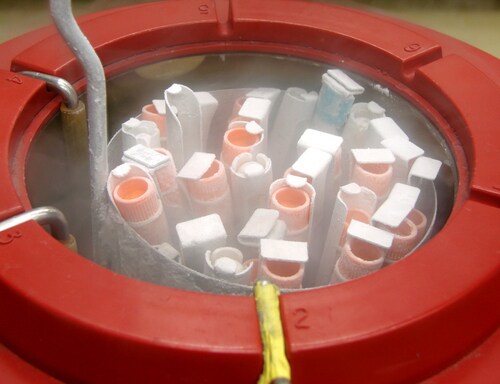 Ischemia, the restriction of blood supply to tissues, can occur during biopsy and subsequent sample preparation, resulting in protein-level alterations and potentially skewing analytical results. For most samples, the duration of total ischemia is unknown and may span from several minutes to over an hour. It is important to note that total ischemia comprises two components: warm ischemia, or the time between vessel ligation and tumor excision, and cold ischemia, or the time between excision and cryopreservation. To evaluate the impact of cold ischemia on the proteome and phosphoproteome, Mertins et al. (2014) performed time course studies of breast cancer and ovarian cancer samples.1 To ensure accurate results, the team excised the tumors prior to vascular ligation and used cryopulverization before quantification with isobaric tags for relative and absolute quantitation (iTRAQ) and liquid chromatography–tandem mass spectrometry (LC-MS/MS).
For this study, the researchers used four serous ovarian carcinoma tumors and two patient-derived breast cancer xenografts, which they sectioned and snap-froze in liquid nitrogen at 0, 5, 30 and 60 minutes post-excision. They performed protein extraction before reduction, alkylation and digestion. Subsequently they iTRAQ-labeled the peptides, separated them with a reversed-phase column, and subjected 5% of the resultant fractions to LC-MS/MS for global proteomics quantification. The researchers enriched the remainder of the samples with phosphopeptides before LC-MS/MS. They then used nano-LC-LTQ Orbitrap Velos hybrid ion trap-Orbitrap mass spectrometric instrumentation (Thermo Scientific) for the ovarian cancer samples and nano-LC-Q Exactive hybrid quadrupole-Orbitrap mass spectrometric technology (Thermo Scientific) for the breast cancer samples.
Mertins et al. quantified almost 15,000 unique proteins and 26,000 different phosphosites, including 86 and 202 phospho-tyrosine (pTyr) sites for ovarian and breast samples, respectively. They detected no changes in general protein abundance levels, but did find significant alterations in the phosphoproteome for both tumor types. These changes were largely asymmetrical, with a marked preference for upregulation. The most dramatic ischemia-induced phosphorylation change occurred in the luminal breast cancer sample, with 19.8% upregulation and 4.5% downregulation. For the basal breast cancer and ovarian cancer samples, ischemia-induced phosphorylation was 5.7% and 5.7% upregulated and 3.9% and 1.2% downregulated, respectively. For pTyr sites specifically, the team found 13.6% upregulation and 5.4% downregulation in luminal tumors and 8% upregulation and 2–4% downregulation in basal and ovarian tumors. In terms of temporal trends for ischemia-related changes, the team observed early clusters with half-activation times of 2–3 minutes and late clusters with half-activations of 34.4–46 minutes.
The researchers also evaluated commonalities among tumor types and found conserved upregulation of 137 phosphorylation sites and conserved downregulation of 21 sites. In terms of pathway analysis, all tumor types revealed enrichment of MAPK and ErbB signaling pathways. For basal tumors, ovarian tumors and luminal tumors, the most enriched pathways were RIG-1-like receptor signaling, vascular smooth muscle contraction, and mTOR signaling/WNT signaling/adherens junctions, respectively. The scientists also detected 14 protein kinases with ischemia-regulated phosphorylation sites in all tumor types. Of these, the regulated sites distributed as follows: 48% luminal tumors, 17% ovarian tumors and 29% basal tumors.
Overall, the researchers posit that although the proteome remains stable, cold ischemia plays a role in phosphoproteome alterations. The information presented here may allow other researchers to identify tumor samples with strong cold ischemic stress response patterns and estimate the timeframe for ischemia. Because live tissues mount coordinated responses to injury, ischemia-induced changes may impact clinically relevant sites and pathways. The team recommends immediate cryopreservation after resection or MS-based monitoring of likely ischemia-impacted samples. They also note that an exhaustive table of commonly impacted phosphorylation sites could be used to flag samples and aid clinical interpretation.
Reference
1. Mertins, P., et al. (2014, July) "Ischemia in tumors induces early and sustained phosphorylation changes in stress kinase pathways but does not affect global protein levels," Molecular & Cellular Proteomics, 13(7), 1690–704, doi:10.1074/mcp.M113.036392mcp.M113.036392.
Post Author: Melissa J. Mayer. Melissa is a freelance writer who specializes in science journalism. She possesses passion for and experience in the fields of proteomics, cellular/molecular biology, microbiology, biochemistry, and immunology. Melissa is also bilingual (Spanish) and holds a teaching certificate with a biology endorsement.