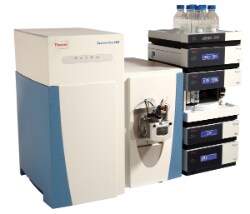 Non-covalent, or native, mass spectrometry (MS) has historically presented both benefits and challenges. One recent advance in native MS adapted an Exactive Plus Orbitrap mass spectrometer (Thermo Scientific) to accommodate large proteins and protein complexes. The result was increased sensitivity and spectral resolution when compared to time-of-flight (TOF) instrumentation Unfortunately, the alterations that made this possible, namely high pressures and accelerating voltages, may produce gas-phase unfolding and ligand dissociation during the analysis of smaller proteins or protein–ligand complexes. Recently, Maple et al. (2014) turned their attention to this dilemma and to the concomitant question of whether or not the Exactive Plus EMR [extended mass range] Orbitrap mass spectrometer can be effective for drug discovery.1
To do this, the team coupled the Exactive Plus EMR Orbitrap LC-MS system (Thermo Scientific) to a chip-based, automated static nanoESI system. The researchers manually adjusted the voltages between the source and c-trap as well as the pressure within the collision cell and the Orbitrap mass analyzer itself. In this way, they preferentially transported ions with higher m/z values and acquired the best possible spectral data. In this study, the resolution range was 8,750 to 140,000 FWHM at m/z 200. The team compared the Orbitrap mass spectrometer results with data gathered using TOF instrumentation.
First, Maple et al. analyzed the lysozyme:NAGn complex, where NAG=N-acetylglucosamine, n=sugar units, and the specific saccharine ligands were NAG, NAG2 and NAG3. Under optimized conditions, all three NAGn ligands bound to lysozyme. The team performed ligand titration and established a binding curve that was in good agreement with that of the TOF instrument, with the following dissociation constant (KD) values: lysozyme:NAG, 1,375 ± 159 μM; lysozyme:NAG2, 311 ± 7 μM; and lyzoyme:NAG3, 20.9 ± 0.4 μM.
The lysozyme:NAGn findings were consistent with the researchers' expectations, given that the low-pressure milieu of the MS machine supports the specific non-covalent interactions of the complex. Hydrophobic interactions, which commonly occur in drug discovery targets, present greater analytical challenges because they weaken in the gas phase. To evaluate the function of the Orbitrap mass spectrometer with these analytes, the team used anti-apoptotic protein Bcl-xL and two ligands: clinical candidate molecule ABT737 and in-house-designed cpd 1. The researchers observed binding of both compounds and found the following KD values from ligand titration: Bcl-xL:ABT737, 2.8 ± 0.6 μM; and Bcl-xL:cpd 1, 8.3 ± 0.5 μM. These values were slightly lower than those observed on the TOF mass spectrometer, indicating that the Orbitrap instrument offered superior performance in this area, given the relative (rather than absolute) KD values presented.
To evaluate instrument sensitivity for small native proteins, the team used serial dilutions of lysozyme and Bcl-xL. In this test, the Orbitrap mass spectrometer outperformed two TOF instruments for lowest protein concentration with a recordable spectrum and signal-to-noise (S/N) ratio. The 39 nM Orbitrap instrument value represented a four-fold or sixteen-fold improvement over the TOF instruments (156 nM and 625 nM). On the Orbitrap instrument, the S/N ratios for a 625-nM spectrum of lysozyme and Bcl-xL were >500 and >1,000, respectively.
Finally, the researchers assessed the Orbitrap instrument for spectral resolution with protein–ligand screening, noting that desolvation/declustering determine spectral resolution limits for native protein ions. When compared to a TOF instrument, the Orbitrap instrument demonstrated better spectral resolution with no peak tailing, baseline-resolved adducts, and isotopic resolution up to 35 kDa. Notably, Maple et al. found that the Orbitrap instrument achieved baseline separation for the different species of a 40-kDa protein (protein X) with a complex constellation of glycoforms (S/N ratio >300). The researchers describe this finding as "striking," noting that the ability to resolve individual glycoforms in heterogeneous biomolecules could expand the application of native MS in the pharmaceutical industry.
Overall, the researchers found that the Exactive Plus EMR Orbitrap LC-MS system provides superior throughput, sensitivity and spectral resolution when compared to TOF instruments. Not only does this identify the Orbitrap instrument as effective for drug discovery programs, but it also presents novel improvements in the detection and resolution of ligand-bound, glycosylated proteins, with broad clinical and research applications.
Reference
1. Maple, H. (2014) "Application of the Exactive Plus EMR for automated protein–ligand screening by non-covalent mass spectrometry," Rapid Communications in Mass Spectrometry, 28 (pp. 1561–8), doi: 10.1002/rcm.6925.
Post Author: Melissa J. Mayer. Melissa is a freelance writer who specializes in science journalism. She possesses passion for and experience in the fields of proteomics, cellular/molecular biology, microbiology, biochemistry, and immunology. Melissa is also bilingual (Spanish) and holds a teaching certificate with a biology endorsement.