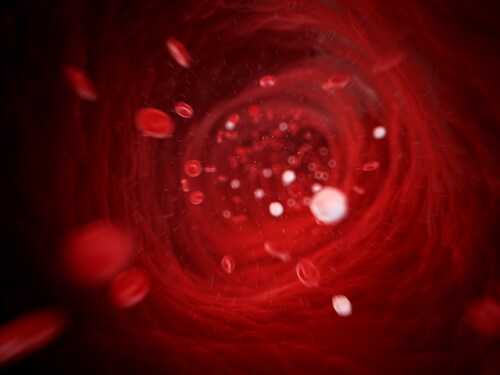 A research team in Glasgow has identified autophagy as a strategy to maintain intracellular levels of reactive oxygen species (ROS). As Patella et al. (2016) explain, endothelial cells inside blood vessels act as a physical barrier between the inside of the vessel and the surrounding tissue.1 Blood vessels are semi-permeable, allowing oxygen and nutrients to pass through. ROS are oxygen-containing chemicals, including peroxides, superoxides, hydroxyl radicals and singlet oxygen. Knowing that the presence of ROS can trigger autophagy in other systems, Patella et al. sought to learn more about how autophagy affects endothelial cells.
The researchers cultured human umbilical vein endothelial cells (HUVECs) in epithelial growth media. They nucleated the cells with 60 pmol of si-ATG5 RNA-Stealth or non-targeting siRNA (Thermo Scientific). As a result, the cells assembled into a monolayer, simulating a physiologically permeable blood vessel. Patella et al. analyzed the cells at subconfluence (50% confluence) and when they reached a tightly confluent state, after 24 hours, four days and eight days of culture. They also created internal standards using spiked-in lysates of ECs subjected to stable isotope labeling with amino acids in cell culture (SILAC). The researchers stained the HUVECs with an Invitrogen Click-iT EdU flow cytometry assay kit and an Annexin V apoptosis kit (both Thermo Scientific) to monitor cell proliferation and apoptotic cell death, respectively.
For the proteomic analysis, the investigators turned to nano liquid chromatography–mass spectrometry (nLC-MS) using an EASY-nLC liquid chromatograph and an LTQ Orbitrap Elite mass spectrometer (both Thermo Scientific) operating in high energy collision dissociation fragmentation mode.
Out of three replicate experiments, the researchers identified 7,565 proteins and quantified 4,591 in at least two of three replicates. A median reproducibility greater than 0.8 (Pearson correlation coefficient) indicated a high level of confidence in the data. An ANOVA test corrected for multiple testing analysis (maximum permutation-based false discovery rate of 0.1%) identified 2,221 proteins with significantly regulated levels in at least one experimental condition. Turning to gene ontology, the team identified proteins related to cell division (e.g., mitosis; p-value = 2.51 × 10−6 ) and DNA/RNA-related processes (e.g., rRNA processing; p-value = 2.91 × 10−17) that were less abundant in confluent cells. As cells reached confluency, they stopped growing and proliferating.
After treating the cells with bafilomycin to block autophagy, Patella et al. detected an increase in the lipidated form of the protein LC3B, indicating an increase in autophagy flux in confluent cells compared with subconfluent ECs. Ultimately, the researchers determined that autophagy controls endothelial permeability in vitro and vascular permeability in vivo, and maintains redox balance in ECs.
These new findings help understand the mechanisms involved in ECs, while also helping to further work in autophagy-regulated ROS, physiology and diseases.
Reference
1. Patella, F., et al. (2016) "In-depth proteomics identifies a role for autophagy in controlling reactive oxygen species mediated endothelial permeability," Journal of Proteome Research, 15(7) (pp. 2187–2197), doi: 10.1021/acs.jproteome.6b00166.
Post Author: Emily Humphreys. Emily has previous research experience in eye development, infectious diseases, and aging. Emily has been a regular contributor to Accelerating Science since 2012.