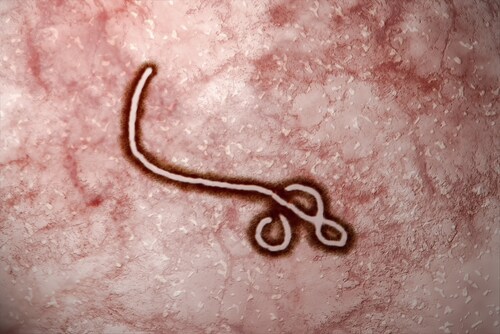 Ebola virus (EBOV) infection produces a hemorrhagic fever that is incredibly lethal, with outbreaks that can escalate to epidemic levels. In May 2014, while the current Ebola crisis raged, a salient report emerged from the United States Army Medical Research Institute of Infectious Diseases at Fort Detrick highlighting the endoplasmic reticulum (ER) chaperone heat shock 70 kDa protein 5 (HSPA5) as an EBOV-associated host factor.1
As a host protein chaperone, HSPA5 plays a role in protein folding and assembly and also regulates ER stress responses. In the case of viral infection (Sindbis, hepatitis C, vesicular stomatitis, influenza A), HSPA5 has been demonstrated to contribute to the maturation of envelope proteins, which allow viruses to enter host cells and evade host immune response. For some viruses (coxsackievirus A9, Borna disease, dengue virus serotype 2), HSPA5 directly participates in viral entry.
To evaluate the indispensable nature of HSPA5 with regard to Ebola, Reid et al. turned to epigallocatechin gallate (EGCG), which inhibits essential ATPase activity by occupying the ATP-binding site on HSPA5, rendering ATP uptake impossible. To do this, the team treated HeLa cells with EGCG (10–100 uM) prior to EBOV infection. After 48 hours, they observed dose-dependent suppression of EBOV infection, demonstrating that HSPA5 ATPase functionality is critical for EBOV infection.
Next, the team analyzed whether HSPA5 expression modulation influences EBOV protein production (as in the case of dengue virus). They transfected 293T cells with non-target or HSPA5 siRNA before EBOV challenge (48 hours post-transfection), then collected cell lysates at 24 and 48 hours post-infection. They observed little impact on viral transcript production in cells transfected with non-target siRNA. Transfection with HSPA5 siRNA, on the other hand, produced a significant drop in viral transcript production at both time points. They also noted a significant downregulation of VP24 protein production. Reid et al. also observed an increase at both time points (significantly at 48 hours) in HSPA5 transcript levels in non-transfected infected and non-target infected samples, as compared to uninfected samples. This indicates that EBOV infection upregulates the expression of HSPA5, possibly through an ER stress response initiated by the accumulation of EBOV glycoprotein GP1,2.
Reid et al. also evaluated viral entry and egress. They found no link between HSPA5 and EBOV entry using knockdown studies (vesicular stomatitis virus pseudotyped with EBOV GP1,2), but did note a novel role for HSPA5—viral budding. They transfected 293T cells (previously transfected with non-target or HSPA5 siRNA) with an Ebola viral matrix protein VP40 expression plasmid and, after 48 hours, they harvested supernatants and isolated virus-like particles (VLPs). The results indicated decreased VP40 VLP levels in HSPA5 siRNA-transfected samples.
Finally, the researchers examined in vivo targeting of HSPA5 by phosphorodiamidate morpholino oligomers (PMOs), antisense DNA nucleotide analogs previously demonstrated to be potentially antiviral. They treated groups of 10 mice (C57BL/6) with phosphate buffered saline, a control PMO, or a PMO targeting HSPA5 (HSPA5-PMO, 7.5 mg/kg) before EBOV challenge (1,000 PFU). They found that mice treated with HSPA5-PMO survived, while the others succumbed to Ebola. The team reports this to be the first in vivo, host-based gene targeting application using EBOV.
Overall, Reid et al. present evidence that HSPA5 is critical for EBOV infection and that targeting the host factor reduced viral replication in vitro and protected lab mice against in vivo lethal challenge. They offer HSPA5 as a promising therapeutic target for Ebola.
Reference
1 Reid, S.P., et al. (2014) "HSPA5 is an essential host factor for Ebola virus infection," Antiviral Research, 109 (pp. 171–4).
Post Author: Melissa J. Mayer. Melissa is a freelance writer who specializes in science journalism. She possesses passion for and experience in the fields of proteomics, cellular/molecular biology, microbiology, biochemistry, and immunology. Melissa is also bilingual (Spanish) and holds a teaching certificate with a biology endorsement.