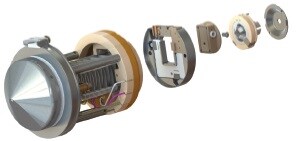 Recently Mullen et al.1 reported on a second generation Easy-ETD reagent ion source (Thermo Scientific). This technology, when coupled with the Orbitrap Fusion Tribid platform (Thermo Scientific), specifically optimizes electron transfer dissociation (ETD) protocols. For researchers, this means that ETD runs can be accomplished with maximized speed and ease of use.
The Easy-ETD source relies upon a stable glow discharge localized between the S-lens and the active beam guide to source ions. These reagent anions enter the ion optics path for m/z selection by the quadrupole mass filter. After they accumulate in the ion-routing multipole, the charged particles transport to the high pressure component of the dual-pressure linear ion trap for the ETD reaction. During the reaction, the instrument retains a greater quantity of ions by using a radio frequency axial confinement field operating at ½ to 2 times the typical quadrupole field frequency. This inhibits parametric resonance excitation and prevents the ejection of low m/z ions (~120-130 Th). After ETD, product ions travel to either the low pressure component of the ion trap or to the mass spectrometer for analysis.
One user-friendly benefit of the technology is the ability to calibrate ETD reaction kinetics in a way that optimizes reaction and scan cycle times and also maximizes sequence coverage. To perform this function, researchers monitored the decay of the angiotensin I precursor (433 m/z) as a function of reaction time at several reagent targets. Using the slope of the decay curves, they established a reaction rate coefficient that can be plotted as a function of the corresponding reagent target. This allowed the researchers to fit the data to find the target at which the reaction rate coefficient saturates and thereby determine the optimal reaction times for each charge state. Mullen et al. noted that they establish high quality ETD spectra at 95% consumption of the precursor.
To verify calibration, Mullen et al. used a ubiquitin infusion derived from bovine erythrocytes. They obtained spectra of the 12+ charge state at 714.7 m/z with resolution of 120K for 100 micro scans. While the predicted optimal reaction of 3.25 msec for the 12+ precursor at first appeared under reacted, a data search with ProSightPC (v. 3.0, Thermo Scientific) revealed that this reaction produced the highest total for c and z fragments. The researchers also determined that, with a total acquisition time of 6.7 seconds, they combined ProSight PC searching and manual spectral interpretation to achieve nearly complete sequence coverage.
The instrument's design also allows parallel or pipelined scan modes, a previously unavailable characteristic that increases overall scan cycle efficiency. This parallel ion trap mobility spectrometry (ITMS) mode produces spectral acquisition rates of up to 20 Hz for both ITMS collision-induced dissociation (CID) and higher-energy collisional dissociation (HCD). ITMS ETD produces spectral acquisition rates of up to 12 Hz since ion-ion reactions require additional time. A final benefit of the system, due to parallel reaction monitoring, is the ability to maintain spectral acquisition rates for a longer precursor injection time than would be possible without parallelization.
Overall, the Orbitrap Fusion mass spectrometer coupled with the Easy-ETD source demonstrates increased usability, speed, and functionality.
For more details why not visit Thermo Scientific at booth 2441, Pittcon 2014? Full details and registration here http://event1.thermoscientific.com/content/pittcon?ca=pittcon

1 Mullen, C. et al. (2013) 'Second-Generation Electron Transfer Dissociation (ETD) on the Thermo Scientific Orbitrap Fusion Mass Spectrometer with Improved Functionality, Increased Speed, and Improved Robustness of Data.' Thermo Scientific Application Note, ASMS13_T019_CMullen_E 07/13S.
Post Author: Melissa J. Mayer. Melissa is a freelance writer who specializes in science journalism. She possesses passion for and experience in the fields of proteomics, cellular/molecular biology, microbiology, biochemistry, and immunology. Melissa is also bilingual (Spanish) and holds a teaching certificate with a biology endorsement.