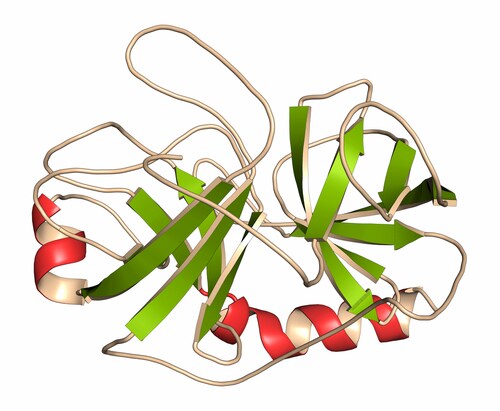 Especially for quantitative label-free proteomics studies, consistency of workflow, methodology and sample preparation in a multi-stage experimental process is key for obtaining meaningful, reproducible data. With bottom-up proteomics, this also includes consistent sample digestion prior to mass spectrometry analysis. Lebert et al. (2014) propose a universal protein standard that monitors this step, providing essential feedback about workflow optimization to researchers.1
Although other methods for monitoring experimental conditions exist, Lebert et al. argue that these are stage- and sample-specific. In creating DIGESTIF, a soluble recombinant protein scaffold holding 11 artificial peptides, the researchers provide a way for scientists to monitor overall digestion during sample preparation.
The researchers used PyMOL to design the protein standard, creating a synthetic gene that they expressed in a PET33b vector, which they amplified using Escherichia coli. Following this, Lebert et al. transformed the product into BL21(DE3) E. coli, a strain that is auxotrophic for lysine and arginine, thus allowing isotopic labeling. Following synthesis, the research team isolated the DIGESTIF protein before evaluating its purity using sodium dodecyl polyacrylamide gel electrophoresis (SDS-PAGE).
The research team examined the synthetic protein standard initially by digesting it using trypsin, then analyzing it using liquid-chromatography tandem mass spectrometry (LC-MS/MS). They also analyzed it after spiking the digest into commercially available human serum. Instrumentation used included an UltiMate 3000 liquid chromatography system and a TSQ Quantum Ultra EMR triple quadrupole mass spectrometer (both Thermo Scientific).
From the synthetic protein digest alone, the team determined proteolytic characteristics and experimental kinetics by mass spectrometry evaluation, generating mass spectral profiles for future reference. Using LC-selected reaction monitoring (LC-SRM), they gathered MS data on DIGESTIF performance in various matrices such as human serum, urine and mouse liver lysate. Lebert et al. then used the protein standard in samples of human plasma from a patient with drug-induced liver injury to examine a real-life scenario where clinicians analyze biomarker levels.
The research team designed DIGESTIF to reflect varying degrees of proteolytic treatment by progressively releasing indicator peptides from its scaffold. In doing so, they found that as an internal standard the recombinant protein reliably indicated the completeness of the digestion process. Lebert et al. conclude that DIGESTIF is a useful tool for proteomics researchers that will assist with experimental design and in monitoring workflows. They suggest that it is useful in the following areas:
As a benchmark test for evaluating proteolytic digestion reagents

For optimizing digestion conditions

To check the efficiency of the digestion process

To identify digestion failures that could adversely affect data
Furthermore, it could also act as an indicator for inter-study variation among different experimental research sites, measuring consistency and noting factors that might affect comparison of data from different studies.
Reference
1. Lebert, D., et al. (2015) "DIGESTIF, a universal quality standard for the control of bottom-up proteomics experiments," Journal of Proteome Research, 14 (pp787-803), doi: 10.1021/pr500834z.
Post Author: Amanda Maxwell. Mixed media artist; blogger and social media communicator; clinical scientist and writer. A digital space explorer, engaging readers by translating complex theories and subjects creatively into everyday language.