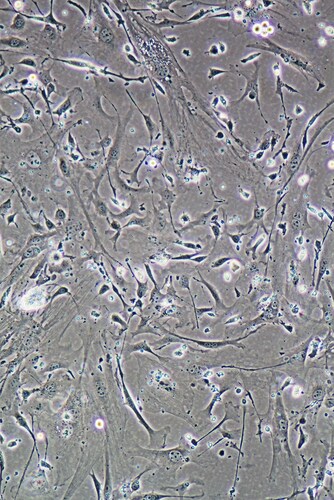 Muscle tissue growth and repair during life takes place through the actions of satellite cells. Given the right signals, these stem cells proliferate and differentiate into myoblasts. Once differentiated, the new myoblasts fuse to each other and also with existing myofibers, thus forming the multi-nucleate cell scaffold characteristic of functioning muscle tissue. Gardner and co-authors (2015) describe a novel in vitro cell culture system designed to elucidate the signaling steps involved in the switch between differentiation and fusion.1
Although p38 MAP kinases are involved in skeletal muscle biology, the signaling pathways involved are less well known. In order to study these events, Gardner et al. developed an in vitro culture system that can be moved through the differentiation and fusion steps in a controlled manner. The researchers used this system to characterize the muscle cell proteome as the cells responded to treatment with insulin-like growth factor I (IGF-I) and p38 MAP kinase inhibitor SB202190.
The researchers set up cultures using mouse C3H10T1/2 fibroblasts and C2 myoblasts. First, they showed that SB202190 inhibits myocyte differentiation in culture. However, this effect could be overcome by treating the cells with R3-IGF-I, an analogue of IGF-I with low affinity for IGF-binding proteins. In the presence of SB202190-induced p38 MAP kinase inhibition, IGF-I rescued cell differentiation; the researchers saw this morphologically as cells elongating into typical myocyte appearance. However, in this system, myocyte fusion did not occur until the researchers removed the inhibitory SB202190 from the culture. When they did this, fusion took place extensively and rapidly, with formation of multinucleated myofibers commonly seen with in vitro muscle cell cultures. At around 30 hours after SB202190 removal, more than 90% of cells had fused.
Gardner et al. used a tandem mass tagging (TMT10plex; Thermo Scientific) approach to examine proteomic changes during differentiation, p38 MAP kinase inhibition and subsequent myofiber fusing on removal of the inhibitor. After lysing the cultured cells, they digested the proteins overnight using trypsin before incubating the preparations with the TMT10plex reagents. They separated the prepared samples by reverse phase chromatography in a Dionex NCS-3500RS UltiMate RSLCnano UPLC system followed by a Dionex NCP-3200RS 224 UltiMate RSLCnano UPLC system (both Thermo Scientific). After this, the researchers examined the TMT-labeled peptide digests by liquid chromatography-tandem mass spectrometry (LC-MS/MS) using an Orbitrap Fusion Tribrid mass spectrometer configured with an EASY-Spray Source (Thermo Scientific).
Looking at proteins specifically involved in signaling pathways implicated in muscle cell differentiation, Gardner et al. found only slight changes in abundance of transcription factors MyoD, myogenin and Mef2C on removal of SB202190. Focusing on proteins associated with myocyte fusion, the team saw no significant changes in mRNA or protein levels, suggesting that SB202190 does not regulate these molecules.
The researchers then turned to characterizing the global proteome in the C2 myoblast cells, using quantitative proteomic analysis to examine changes in protein abundance with IGF-I treatment following SB202190 withdrawal. They identified 82 proteins that increased with removal of the inhibitor and 48 that decreased. Of these, the research team identified around 50% of those that increased as sarcomere components or binders important in muscle contractility, whereas they found multiple cytoskeletal elements among the group that decreased in abundance.
Gardner et al. propose that the in vitro model described adequately separates muscle cell differentiation from fusion events, thus making it suitable for studying the separate signaling events involved in muscle tissue growth and repair.
Reference
1. Gardner, S. et al. (2015) "Separating myoblast differentiation from muscle cell fusion using IGF-I and the 5 p38 MAP kinase inhibitor SB202190," American Journal of Physiology: Cell Physiology, doi:10.1152/ajpcell.00184.2015