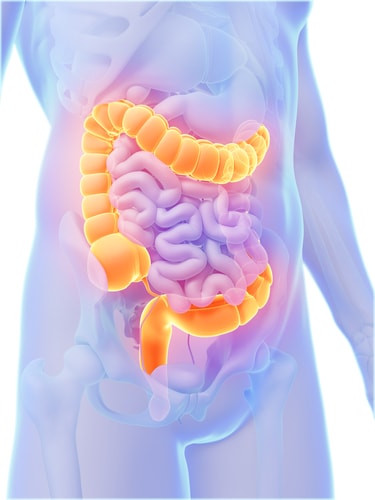 The Human Genome Project has created an interesting new avenue in the field of medical research, opening up an entirely new way of looking at disease. The project subsequently facilitated The Cancer Genome Atlas (TCGA), which characterizes the genomic properties of cancers. Rather than treating and classifying tumors by the primary tumor's site of origin, scientists can instead identify subtypes of cancer based upon their combined genetics and proteomics.
In some cases, researchers have observed disparate primary tumors with the same genetic mutations, such as anaplastic lymphoma kinase (ALK) mutations. In the case of tumors with ALK translocations, emerging evidence exists that ALK inhibitors can be used effectively to treat any cancer exhibiting this mutation.1
Zhang et al. recently analyzed the proteomes of colon and rectal tumors as they have been characterized by the TCGA, examining 95 of these TCGA samples using liquid chromatography–tandem mass spectrometry (LC-MS/MS)-based shotgun proteomics.2 In doing so, they present a functional context for the genetic variations of colon and rectal tumors.
Using an LTQ Orbitrap Velos hybrid ion trap-Orbitrap mass spectrometer (Thermo Scientific) equipped with an Eksigent NanoLC 2D pump and AS1 autosampler, the scientists performed LC-MS/MS analysis on resuspended peptide fractions derived from the colon and rectal tumor samples. They used the RefSeq human protein sequence database (version 54) to identify the resulting peptides. In total, Zhang et al. identified 124,823 distinct peptides corresponding to 6,299,756 spectra in an assembly of 7,526 protein groups, with a protein-level false discovery rate (FDR) of 2.64%.
The research team also identified 796 single amino acid variants (SAVs), corresponding to 64 somatic tumor variants from the TCGA set, which they then validated using parallel reaction monitoring (PRM) analyses on a Q Exactive hybrid quadrupole-Orbitrap mass spectrometer (Thermo Scientific). Among these were 162 previously unreported SAVs and 64 that matched RNA-seq data and corresponded to somatic variants from TCGA. Of the remaining SAVs, 526 were listed in the Single Nucleotide Polymorphism database (dbSNP), and which Zhang et al. believe are likely to be germline variants. Notably, the somatic variants were enriched in hyper-mutated samples and exerted a significantly stronger negative impact on protein abundance in the colon and rectal tumor samples.
Zhang et al. also examined the relationship between protein levels and mRNA copy numbers, along with the subsequent biological function of the gene product using KEGG (Kyoto Encyclopedia of Genes and Genomes) analysis. The research team had mixed results and ultimately found that mRNA and protein levels only modestly correlated; over two-thirds of these correlations were not statistically significant. They did, however, discover a strong cis-effect of copy number alterations (CNAs) on mRNA abundance. The team separated genes with known CNAs, mRNA and protein measurements into groups according to focal amplification regions, focal deletion regions and non-focal regions. Zhang et al. found that focal amplifications have the strongest cis-effects on both mRNA and protein abundance. Chromosomes 20q, 18, 16, 13 and 7 contained the five strongest hot spots driving global mRNA abundance variation. The 20q amplification was associated with the largest global changes in both mRNA and protein levels. There are 79 genes in the 20q region, one of which is HNF4A. HNF4α, meanwhile, has been identified by TCGA as a transcription factor with a key role in normal gastrointestinal development; it has been implicated in colon and rectal cancers. The researchers have shown in previous studies that HNF4α correlates with amplification of the HNF4A gene in colorectal cancer.
Because there was very little correlation between mRNA and protein levels, the researchers subtyped the colon and rectal cancer samples according to proteomics data and were able to identify five subtypes (labeled A to E). HNF4α abundance was significantly higher in subtype E tumors as compared to normal colon samples. This upregulation was not present in the other subtypes.
Drilling down to this level begins to deliver an ability to subtype tumors and, most importantly, to delineate biomarkers for prognosis. This approach revealed the importance of chromosome 20q amplification in colon and rectal cancers and the subsequent role of HNF4α. Key, the researchers have also highlighted that the drivers of colorectal cancers are more than a collection of amplifications and rearrangements.
References
1. Grande, E., Bolos, M., and Arriola, E. (2011) "Targeting Oncogenic ALK: A Promising Strategy for Cancer Treatment," Molecular Cancer Therapeutics, 10(4) (pp. 569–79).
2. Zhang, B., et al. (2014, September) "Proteogenomic characterization of human colon and rectal cancer," Nature, 513 (pp. 382–7), doi: 10.1038/nature13438.
Post Author: Miriam Pollak. Miriam specialised in neuroscience as an undergraduate but traded in lab work for a post graduate degree in science communication.
She has since had a career that has spanned science communication, science education and communications management.
However, Miriam has found her bliss balancing her love of writing and disseminating medical research with managing a multimillion dollar research budget for a childhood cancer charity in Australia.
Oh, and because she's a sucker for punishment… she's just started a Masters in Human Nutrition…