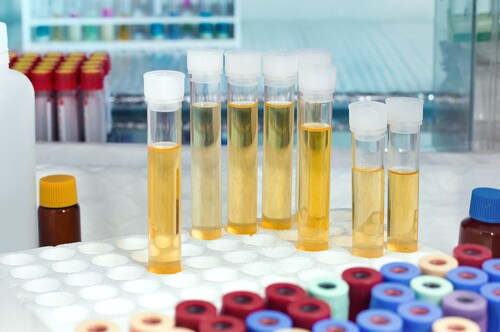 Among biological fluids, urine yields significant clinical advantages: namely, it is available in large quantities through non-invasive means. Because the kidneys filter blood plasma, many of the proteins commonly detected in blood are also detectable in urine samples, including those proteins with the potential to serve as biomarkers.
Proteomics-based studies of centrifuged urine samples generally use the urine supernatant while discarding the urinary sediment, or pellet. The urinary sediment itself, however, may be a trove of clinical information—particularly in the case of urinary disease, including urinary tract infection (UTI). In addition to pathogenic mechanisms, proteomic analysis of urinary pellets may also provide insight into microbial and host–pathogen interactions in the urinary tract.
Proteomic analysis of urine is not without challenges, including protein diversity, dynamic range, and high degrees of urinary proteome variability (both inter- and intra-individual). Previous research has indicated that protein abundance in this matrix spans over five orders of magnitude1; a full 50% of these are the 17 most abundant proteins that may dominate liquid chromatography–mass spectrometry (LC-MS) analysis, limiting detection of low-abundance proteins.
In one study, researchers applied sodium dodecyl sulfate–polyacrylamide gel electrophoresis (SDS-PAGE) and an LTQ Orbitrap hybrid ion trap-Orbitrap mass spectrometer (Thermo Scientific) to urine supernatants, identifying over 1,500 unique proteins.2 Other methods, including gel, ion exchange, reversed-phase, and lectin enrichment produced 1,823 and 2,362 identifications.3,4 When using urinary pellets from UTI patients run on a Q Exactive hybrid quadrupole-Orbitrap mass spectrometer (Thermo Scientific) without pre-analysis fractionation or depletion, researchers identified over 2,200 proteins.1
Yu et al. recently published a detailed 96-well filter-aided sample preparation (96FASP) urine processing protocol for LC-MS/MS, for both supernatants and sediments, with an optional parallel desalting method.5 The batch-mode method saves both time (reducing experimental repetition) and cost.
Briefly, this process combines urine sample preparation, 96FASP plate processing and StageTip desalting to produce a peptide-enriched fraction suitable for LC-MS applications. First, researchers should centrifuge the urine samples (5 to 50 mL) to produce supernatant and sediment. Using an ultrafiltration device, they can then concentrate and wash the supernatant before denaturation using dithiothreitol (10 mM), sodium dodecyl sulfate (1%) and heat. The pellet should be lysed. Following this, the researchers can load the resultant proteins (10 to 50 µg) onto the 96FASP plate. After washing (urea buffer) and spinning, the workflow calls for iodoacetic acid alkylation followed by washing (urea and NH4HCO3 buffers), spinning and two rounds of trypsin digestion. The team can then perform the optional desalting technique utilizing a spinnable, automatable StageTip protocol.
Yu et al. offer this detailed workflow as a high-throughput option ideal for clinical proteomics applications, including biomarker discovery. A simplified, cost-effective workflow could also serve as a clinical diagnostic technique for urinary disease, including UTI.
References
1. Yu, Y., et al. (2014) "Urine sample preparation in 96-well filter plates for quantitative clinical proteomics," Analytical Chemistry, 86(11) (pp. 5470–77), doi: 10.1021/ac5008317.
2. Adachi, J., et al. (2006) "The human urinary proteome contains more than 1500 proteins, including a large proportion of membrane proteins," Genome Biology, 7(9) (p. R80).
3. Kentsis, A., et al. (2009) "Urine proteomics for profiling of human disease using high accuracy mass spectrometry," Proteomics: Clinical Applications, 3(9) (pp. 1052–61).
4. Marimuthu, A., et al. (2011) "A comprehensive map of the human urinary proteome," Journal of Proteome Research, 10(6) (pp. 2734–43).
5. Yu, Y., and Pieper, R. (2015) "Urine sample preparation in 96-well filter plates to characterize inflammatory and infectious diseases of the urinary tract," Urine Proteomics in Kidney Disease Biomarker Discovery: Advances in Experimental Medicine and Biology, 845 (pp. 77–87), doi: 10.1007/978-94-017-9523-4_8.
Post Author: Melissa J. Mayer. Melissa is a freelance writer who specializes in science journalism. She possesses passion for and experience in the fields of proteomics, cellular/molecular biology, microbiology, biochemistry, and immunology. Melissa is also bilingual (Spanish) and holds a teaching certificate with a biology endorsement.