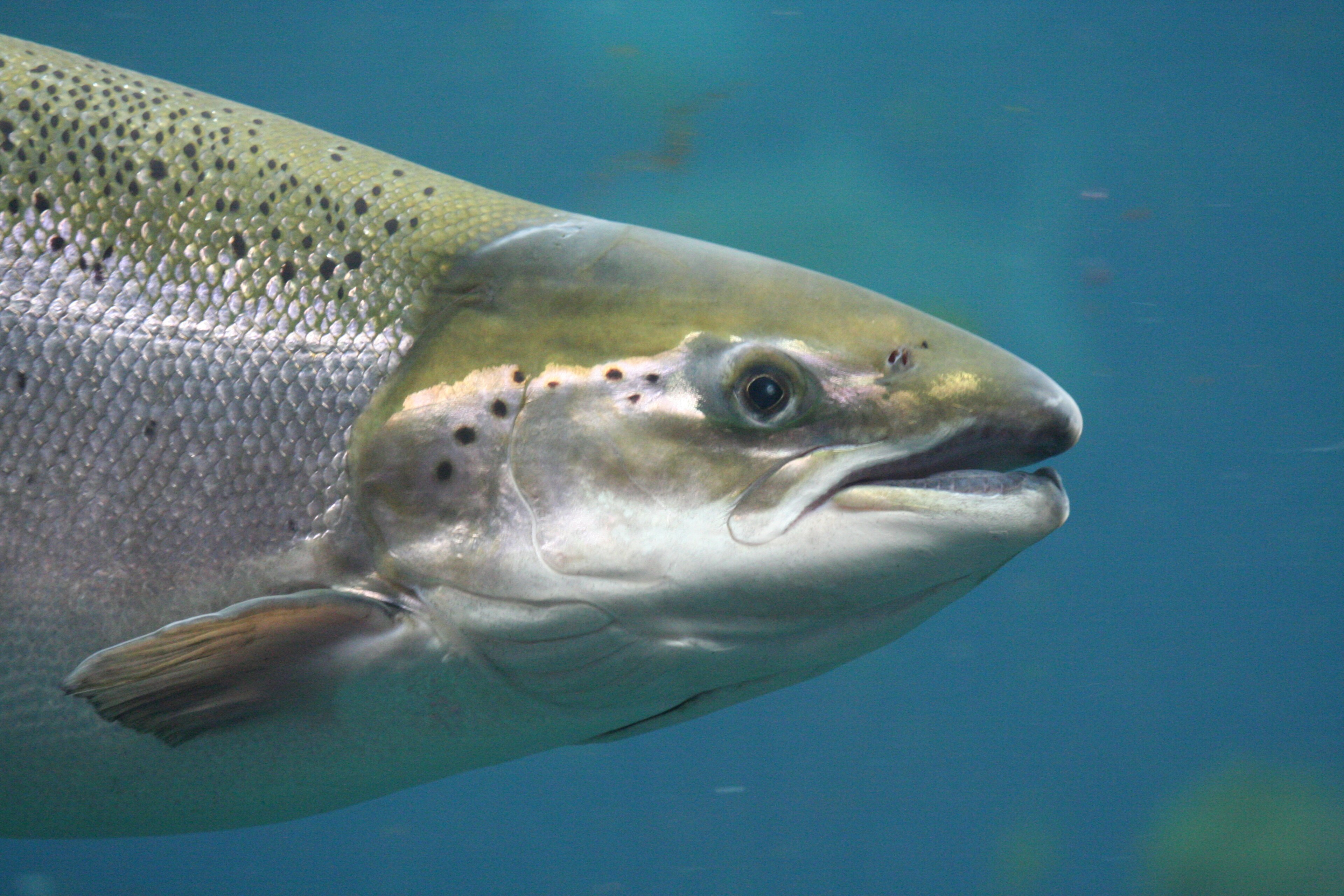 According to Dr. Alastair Hamilton, a leading researcher in aquaculture genomics, breeding for disease resistance has been one of the tremendous successes in aquaculture made possible by genomic breeding
programs.
As an addition to aquaculture genomics tools, Dr. Hamilton collaborated with research partners and Thermo Fisher Scientific to develop a high-density single nucleotide polymorphism (SNP) chip. The Applied Biosystems Axiom Salmon Genotyping Array, which covers more than 130,000 SNPs across the genome of various farmed salmon species, enables genome-wide studies to identify disease-resistant families for breeding selection.
Disease is one of the major challenges in this relatively new industry, and breeding for resistance is helping husbandry and welfare. Dr. Hamilton, who leads the molecular biology department at Landcatch Natural Selection, has extensive experience using genetics in aquatic species. His research focuses on Atlantic salmon and rainbow trout, with disease as a priority in farmed fish.
Landcatch is part of Hendrix Genetics Aquaculture, a multispecies animal breeding, genetics and technology company that focuses on animal protein as a food source. Its search for innovation and sustainability in aquaculture includes genomic breeding plans for disease resistance.
Infestation with sea lice is a major problem in salmon aquaculture. Although they do not directly kill the fish, parasite burdens affect growth and feed conversion, stunting fish and lowering meat quality. In addition to reducing profits, lice also pose a welfare problem in salmon rearing pens.
Unfortunately, louse infestation is difficult to study; manually counting parasite numbers per fish is time-consuming and prone to error, since the lice are mobile. It is, however, a disease with a hereditary component; researchers and breeders noticed that certain families of salmon were more resistant to lice infestation than others. Being able to identify heritable markers in resistant families could accelerate selective breeding programs and improve welfare.
Molecular breeding programs offer speed, efficiency and low-cost solutions to identifying these beneficial traits and phenotypes in food animals. As Dr. Hamilton notes, however, lack of access to genomic tools has been a major barrier to progress within the aquaculture industry. To address this, Hamilton and collaborators from the Roslin Institute, the University of Stirling and the University of Glasgow worked with Axiom biotechnical scientists and experts to develop molecular markers that could identify disease-resistant families.
Supported by government initiatives, Genomes UK and the Knowledge Transfer Network, the team developed marker panels through sequencing and SNP discovery, and from data within existing RNA-Seq databases. From these sources, they identified over one million SNPs of interest. They used an in silico approach to filter the results, refining the final count to around 130,000 SNPs to include on the chip. With the arrival of 36–50K Axiom arrays, the team could incorporate their markers into a high-density salmon genotyping chip.
Hamilton and his collaborators encountered several challenges while creating the chip-based genotyping tool. The salmonid genome contains a lot of repeated sequences, which complicate SNP analysis. Once the SNPs were identified, the team discarded SNPs found in these areas to concentrate on more valuable and reliable markers. They also had to filter out SNPs associated with haploidy, since whole-genome duplication is noted in salmon.
Following extensive validation, the Axiom array is valuable for complex trait research, for GWAS (genome-wide association studies) and QTL (quantitative trait locus) mapping. As part of the Thermo Fisher Scientific agrigenomics portfolio,  Axiom Genotyping Solutions give flexible, customizable and powerful genotyping solutions to identify, validate and screen complex genetic traits in plants or animals. These include efficient workflows and automation, with powerful bioanalytical tools for handling data.
From this and other advances in aquaculture agrigenomics tools, Hamilton looks forward to increased use of molecular analysis in fish farming. Future benefits arising include the following:
         Genomic studies that select species suitable for farming in new geographical areas and under nontraditional conditions.
         Molecular marker identification for traits affecting feed conversion factors, with the possibility of research into novel diets.
         Improved husbandry and production for addressing welfare concerns.
         Breeding for disease resistance to reduce in-feed drugs and environmental concerns.
With aquaculture increasing to meet food production needs across the world, genomic breeding programs will play a greater and greater role in the industry. As Dr. Hamilton notes, at the start of the project there were no tools available; now, the industry routinely uses SNP chips to make breeding decisions.
Find out more about Thermo Fisher Scientific agrigenomics solutions. To discover how these solutions can improve your breeding program, contact us for a free consultation with a genotyping specialist.
 For Research Use Only. Not for use indiagnostic procedures.