Subjecting whole blood to density-gradient centrifugation fractionates the sample into three constituents: erythrocytes, plasma and buffy coat. The buffy coat, a thin layer sandwiched between the other components, is less than 1% of the original whole blood sample, yet it contains the majority of the white blood cells and platelets as well as an equivalent amount of genomic DNA (gDNA) when compared to whole blood.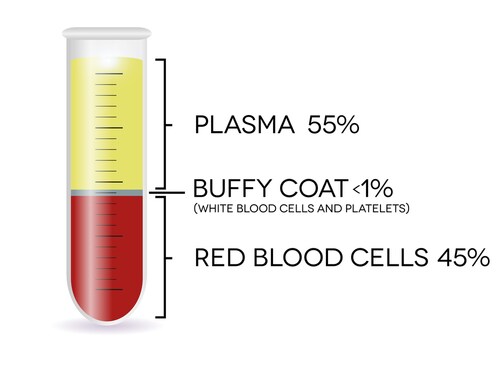 While many laboratories extract gDNA from whole blood, the option to instead use buffy coat allows research teams to purify large amounts of gDNA using only very small samples and broadens the range of product applications. It is important to note that the health status of the blood donor can impact the resultant gDNA yield.
The SP&A Laboratory1 recently evaluated the performance of the KingFisher Blood DNA Kit in combination with KingFisher Flex and KingFisher Duo magnetic particle processors (Thermo Scientific) for the purification of 150 µL to 1,000 µL buffy coat samples. The team purified the samples on either a 96-deep well plate or a 24-well plate, depending on the sample size. They used multiple sample sizes and modified BindIt software (Thermo Scientific) protocols, which are available from the manufacturer.
For samples with volumes of 500 µL or greater, the team applied an optimized lysis step to accommodate the greater number of cells present in the buffy coat. By increasing the lysis time to one hour, they were able to attain improved gDNA yield. The range of elution volumes was 150 µL to 1,500 µL, again dependent on sample size.
Overall, the laboratory reports excellent results for both yield and quality of purified DNA, rendering the Blood DNA Kit suitable for buffy coat applications. The team evaluated this by PCR, using a downstream assay of 1 µL gDNA eluate. They also measured UV absorbance at 230 nm to 340 nm and observed a typical pure DNA curve when they graphed five samples. The A260/A280 and A260/A230 ratios were 1.8–2.0, within the optimal range. The team notes that the semi-automated nature of the system decreases hands-on requirements and improves overall accuracy.
DNA yield by sample size and platform
KingFisher Flex 96 &

KingFisher Duo 12

150 µL buffy coat

35–45 µg DNA yield

KingFisher Flex 96 &

KingFisher Duo 12

200 µL buffy coat

55–62 µg DNA yield

KingFisher Flex 24 &

KingFisher Duo 6

500 µL buffy coat

210–230 µg DNA yield

KingFisher Flex 24 &

KingFisher Duo 6

750 µL buffy coat

320–350 µg DNA yield

KingFisher Flex 24 &

KingFisher Duo 6

1,000 µL buffy coat

450–490 µg DNA yield
Reference

1. SP&A Application Laboratory. (2014) "Technical note: DNA purification from buffy coat samples with the Thermo Scientific KingFisher Blood DNA Kit," Thermo Fisher Scientific.