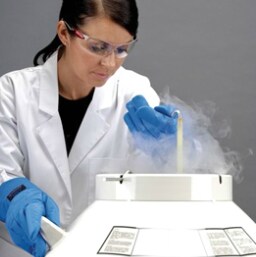 Sample integrity is paramount during an inventory of your biobank and therefore should be an early consideration in inventory planning. The phase transition between freezing and thawing can cause considerable physical damage to samples.
Refrigerated Samples
When performing an inventory of your refrigerated samples, remember that these samples have an optimal temperature range between +1°C and +10°C. Handling your samples at temperatures outside of this range can cause significant sample stress as a result of cellular dehydration or ice formation. Some specific considerations include: guarding your samples against becoming too warm, avoiding direct contact with dry ice as it will cause your samples to freeze, and minimizing door opening so that samples not being inventoried remain uncompromised. The best option for holding refrigerated sample temperature during inventory is to use a water/ice slurry.
Frozen Samples
Frozen, ultra-cold and cryogenic storage present an additional challenge to refrigerated storage. If your samples thaw, you will stress them and you add a subsequent stress when returning them to their frozen state. The same is to be said for drastic changes between ice states. That is, if a sample from ultra-cold storage (-60°C to -90°C) thaws to temperatures significantly below such as frozen storage temperature ranges (-20°C to -30°C). You will need to select bench-top coolers carefully to manage this.
To summarize, avoid thawing of your frozen samples and avoid freezing of your refrigerated samples. If adequate pre-planning is completed and the process is managed properly, your sample integrity can be maintained through an organized and structured inventory procedure.
To  learn more, watch a 10-minute webinar on maintaining sample integrity during inventory.
This story is part of a series of three on biobank inventory best practices.