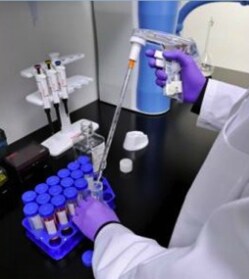 Whether for the purpose of consolidation, storage reorganization or replacing a damaged sample container, at some point you may need to transfer your samples. The process you use for transferring samples will depend on transfer type. Are you moving sample units, or performing a wholescale sample content transfer? Methods also depend on storage temperature range.
Box Transfers
In the simplest of scenarios, you may need to transfer a sample unit to a new box. In addition to inspecting the state of the new box, you should label it at the outset. Your next step is to precondition the box to the sample temperature, using appropriate media such as an ice slurry for refrigerated storage or a dry ice station for your ultra cold storage, and so on. Regardless of storage temperature, you should avoid handling samples by hand for personal safety as well as the risk that it generates for your samples. Your best option is to use a tweezer tool. Finally, using a metal sleeve to hold the boxes will assist with maintaining temperature.
Site Transfers
You can apply similar principles to other types of sample unit transfer such as when transferring samples to new storage or to an off-site facility. However, some additional considerations apply due to the increase in time that your samples may be out of their normal storage. This places them at risk of either thawing or freezing, both of which will stress your samples and compromise their integrity. Limit the time that you open your refrigeration facility and the frequency with which you open and close it.
If you are shipping off-site, there are a number of options that will again, depend on the type of storage your samples use. Liquid nitrogen trucks can be used for cryo-storage. Generator trucks may be an option for other types of cold storage. A third method, uses dry shippers. A dry shipper uses the vapour phase of liquid nitrogen to maintain samples at cryogenic temperatures. These are commonly used for shipping small sample volumes in a short time frame.
Sample Content Transfers
The process is quite different for sample content transfers. There will be instances where you may need to thaw samples in order to transfer them. There are some recommendations when it comes to protect samples while they thaw. Make sure you are thawing samples as quickly as possible at the highest temperature possible, without causing cellular injury. The ideal condition for thawing is typically a water bath at 37°C. Gently agitating your sample can accelerate the thawing process. Once the sample is thawed, gently wipe the exterior of your container with a disinfectant to prevent sample contamination. Being organized at this point is essential. Before you begin transferring your sample to a new container make sure that any sterile pipette tips and new containers you will need are on hand, including the correct lid for your new container. It may sound obvious, but contamination at this point can ruin sample integrity.
With your sample in its new container, ensure that it has been labelled correctly and logged (including information on the process you used to thaw and transfer the sample) and begin refreezing/cooling your sample at a controlled rate.
Although it may seem daunting at the time, it is possible to transfer your samples and maintain their integrity. But, be organized, log your processes and if you don't need to, avoid thawing frozen samples and freezing refrigerated samples.
To learn more, watch a 10 minute-webinar on maintaining sample integrity during transfer.
This story is part of a series of three on biobank inventory best practices.