Corporate Social Responsibility, or CSR, is now fundamental to the business strategies of most global companies. At its most basic level, CSR involves conducting business in a way that respects employees, the environment and local and international laws. But some companies take CSR even further by implementing policies that benefit society and/or the environment beyond the interests of the corporation itself.
Over the years, companies have proven again and again that a commitment to CSR can lead to a wide range of benefits, including not only higher profits and growth, but also enhanced innovation, improved employee morale/job satisfaction and greater customer loyalty. Consequently, it's no surprise that leading global corporate giants, such as Unilever, Microsoft and Coca-Cola (which released its tenth annual sustainability report in November), have robust CSR policies in place.
Why haven't biobanks done the same?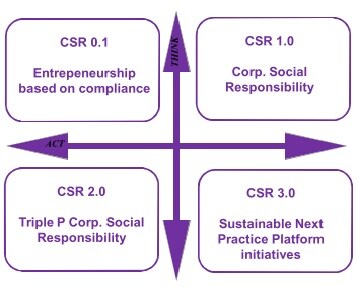 From what I've seen, most biobanks have been slow to put CSR into action, and that needs to change. It's time for biobanks to take a page from the playbooks of leading corporations that prioritize CSR. Here's why:
CSR is directly aligned with biobanking goals. Biobanks have the core principles of CSR "in their DNA." For example, medical sample biorepositories are leaders in research to improve human health. Others, like Australia's Frozen Zoo and the Millennium Seed Bank, are devoted to preserving the environment. With missions like these, it only makes sense for CSR to be integrated into every biobank's policies and broader business strategies.
A commitment to CSR leads to energy efficiencies and cost savings. There's no doubt about it: Biobanks are energy hogs. Keeping millions of samples at -80°C isn't a trivial task, especially when most biobanks plan to keep their sample collections for decades (or even longer). New cooling technologies that enable reductions in energy consumption (via data-management assistance with optimizing freezer load, sample miniaturization and robotic sample placement and retrieval) are better for the environment AND better for the bottom-line. The same is true for sustainability concerns in other areas, like environmentally-friendly packaging and efficient computer systems.
 Biobanks serve the interests of a wide group, many of whom already have a commitment to CSR. The stakeholder list for a biobank is a typically quite diverse. Physicians, patients, pharmaceutical companies and academic researchers all depend on biobanks for sample preservation. In addition, vendors and suppliers need biobanks for business, as well. Many of these groups already prioritize CSR. To maintain effective collaborations and ensure compliance, biobanks should match or exceed the CSR efforts of their colleagues and partners.
Incorporating CSR policies is in the best interest of biobanks and their diverse stakeholders. As biobanks continue to play an increasingly important role in personalized medicine, the number and size of biorepositories is bound to increase. A sustainable future for the industry depends on biobankers to design best practices that follow the "triple P" value approach:  processes that respect the social and ethical concerns of People, show responsible stewardship of the Planet, and create a financially-sound business plan for Profit.