Are you a medicine maker? Then we've got something you need to see! Thermo Fisher Scientific recently launched a new multimedia platform to bring ideas to scientists who, simply put, make medicine. The Lab Ideas for Medicine Makers hub focuses on current challenges and topics of interest for pharmaceutical and biopharmaceutical laboratories.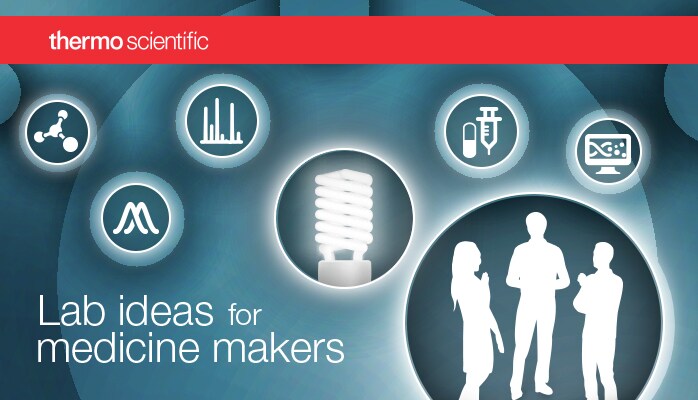 Lab Ideas for Medicine Makers features live events and rotating featured content, curated with insight from our partners and your peers. You'll find lab ideas for improving chromatography, technology ideas on liquid chromatography and ion chromatography, and lab ideas for your informatics challenges.
Live content: Modernizing a compliant lab
Our live content kicks off on January 25th, with a focus on modernizing lab instrumentation in a regulated environment. Bill Weiser, Ph.D., Senior Director of Global Quality Systems for the Pharma Services Group (Patheon) at Thermo Fisher Scientific, will discuss how Patheon changed their existing liquid chromatography equipment fleet in regulated laboratories to a completely new provider. We will discuss:
Identifying and resolving challenges with bringing in a new instrument vendor
Overcoming technical challenges with third-party software and driver connectivity
Understanding how to accommodate method transfer
How to introduce staff to new vendor solutions
Identifying and cultivating internal champions – Recognizing and celebrating success
On January 26th, we're hosting a panel discussion on instrument equivalency assessment, requirements, and lessons learned for successful transitioning to a new and modern fleet of equipment, while maintaining analytical activities. We will also discuss considerations for method transfer from conventional HPLC to UHPLC techniques.
An additional panel discussion on lessons learned from transitioning to new chromatography instrumentation and vendors is scheduled for January 28th. In this session, our panelists will review common triggers for new instrument types or new instrument vendors in pharmaceutical laboratories, and will discuss how to overcome the implementation dip when introducing a new instrument type in a regulated environment.
"Being audited is stressful. Are we prepared?"
Live content planned for February will focus on audit-readiness. We will discuss how the choosing the right instrumentation and informatics partner can ensure you are audit-ready. Hear from industry experts how a holistic approach to compliance, validation, and data integrity helps you in regulated labs to reduce stress and, more importantly, be prepared.
Visit the Lab Ideas for Medicine Makers website to register for upcoming live sessions and review the latest content for pharmaceutical and biopharmaceutical laboratories. New content will be available each month, so be sure to visit often!