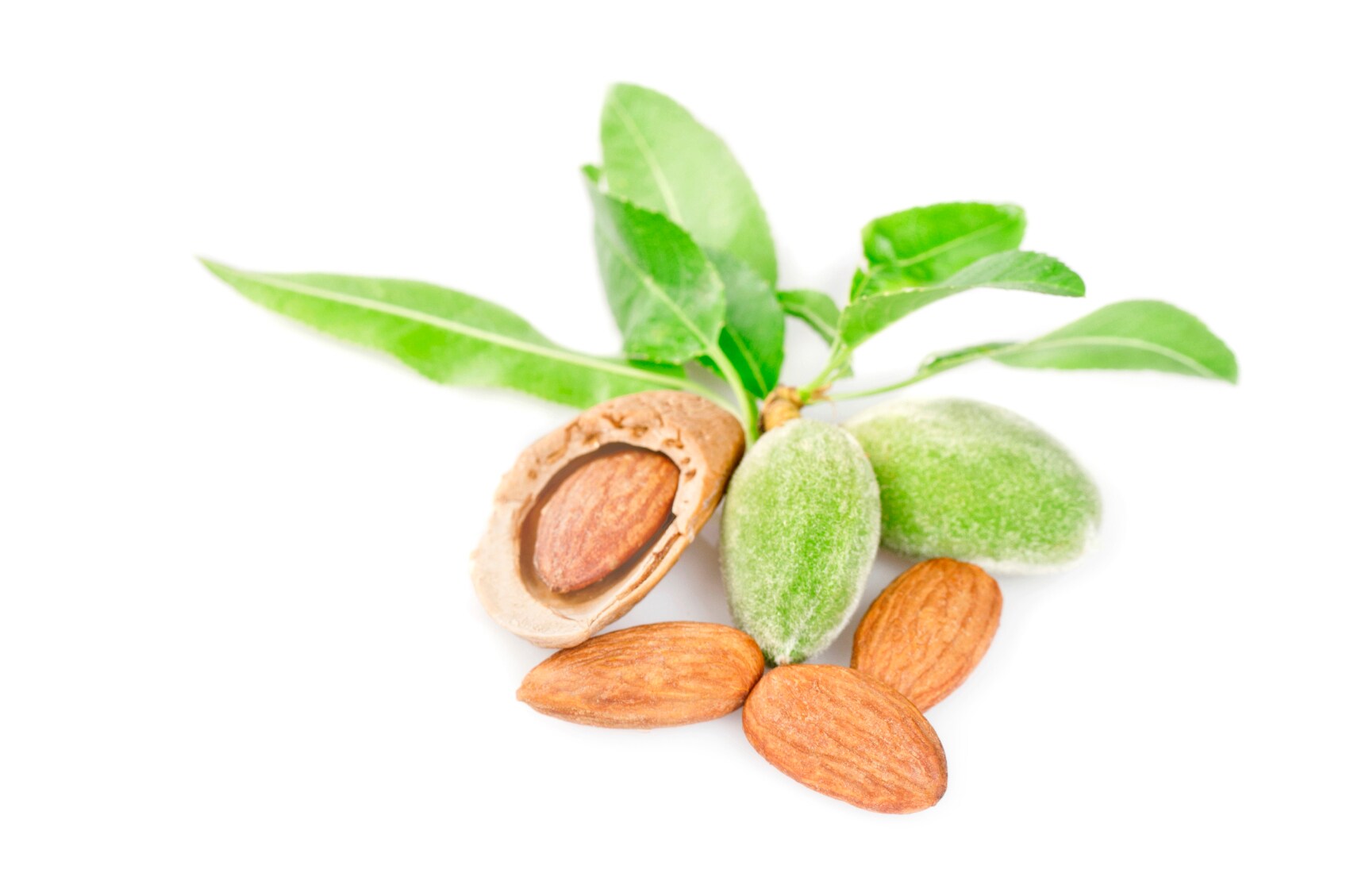 Did you know there are more than 30 different varieties of almonds?  Besides finding them in bags of trail mix, consumers can enjoy this healthy snack baked into marzipan confections, French pastries, and all types of cookies, cakes, and candies. Crushed almonds can also be incorporated into pestos, glazes, and crunchy coatings for meats. Almonds are even given as gifts during India's festival of Diwali.
Getting these tree nuts from orchard to table is a multi-stage process.  When the crop is ready to be harvested, a tractor-like machine actually grabs the trunk of the tree and vigorously shakes it so the almonds fall to the ground.  The almonds are then left on the ground several days to dry out; another machine then sweeps them into rows so a harvester can pick them up with a series of belts. They are then cleaned through the machine and dumped into a bucket in the back of the truck; hopefully most of the sticks and branches that have fallen from the tree are removed in the process. The truckload of almonds are then taken to the huller and sheller plant where additional debris, shells, and sticks are removed, and the nuts are cleaned and sorted via several pieces of heavy machinery so only the kernals remain. Sometimes rocks, metals, and glass particles are found and removed through the sorting and cleaning process.
The Almond Board of California reports that the United States Department of Agriculture (USDA) maintains strict standards and grades in order to ensure that the products for consumers reach or exceed a certain level of quality.
There are seven grades of almonds based on eleven different parameters, including visual appeal. Shelled almonds have different tolerances regarding their proper grading. For instance, the U.S. Fancy grade consists of "shelled almonds of similar varietal characteristics which are whole, clean and well dried, and which are free from decay, rancidity, insect injury, foreign material, doubles, split or broken kernels, particles and dust, and free from injury caused by chipped and scratched kernels, and free from damage caused by mold, gum, shriveling, brown spot or other means."
According to a news article last year, "California produces 82% of the globe's almonds, harvesting about 800,000 acres of the tree nut across a 400-mile stretch [a 1.85 billion pound crop]…. About 70% of California's almonds are sold overseas. That made the crunchy nut the No. 1 state agricultural export in 2012 at $2.5 billion."
To increase its production while ensuring quality, an almond producer in California added an X-ray system to its plant. The producer was already using other sorting methods but even so, their material still needed intensive hand labor to find and remove unwanted material. To gain efficiencies, recover more product and trim rework, the producer incorporated a bulk system at the end of the production line. The machine was able to inspect more than 8,000 pounds of almonds per hour. (The machine's maximum is close to twice that amount.) The almonds were stacked at a half-inch depth on the belt, which allowed the machine to detect metal pieces as small as 1 and 2 millimeters and glass and stones as small as 3 to 4 millimeters in size. (You can read more about bulk flow x-ray inspection in this white paper.)
Integrating X-ray inspection into the production process promotes food safety and quality and decreases the amount of scrap and rework. By incorporating the X-ray machine, the producer saved thousands of dollars in labor, improved production output and gained consistency of detection. The result was that a quality product reached the consumer more efficiently.
The addition of this equipment helps ensure that the next time you go to an Italian wedding, you will receive a little bag of Jordan Almonds, and not Jordan Almonds, Tree Sticks and Rocks.