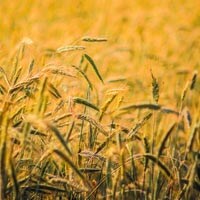 The element selenium is essential for proper nutrition. Although it is rare for healthy individuals to be deficient in selenium, deficiencies are more likely to occur in malnourished areas where either the primary food source or the soil it is grown in is deficient in selenium. Selenium enrichment can be easily achieved by supplementing wheat, a common staple food. When growing conditions are not optimal, a process called selenate fertilization, or agronomic biofortification, can be used to enrich staple foods with Selenium.
Se-proteins have been previously characterized in rice with the highest amount of selenium content (31%) found in the glutelin fraction of the rice grain.2 In a recent publication3, Bianga et al. adapted the methods of this earlier study to develop a method of identifying Se-proteins in wheat.
The authors began by digesting and extracting the proteins from a sample of wheat flour or protein pellet in preparation for 1D sodium dodecyl sulfate polyacrylamide gel electrophoresis (SD-PAGE) separation, followed by isoelectric focusing electrophoresis/SDS-PAGE 2D Gel. An in-gel trypsin digestion was performed prior to analysis with parallel inductively coupled plasma mass spectrometry and LC-Orbitrap MS/MS (Thermo Scientific).
Total selenium content in the sample was 43.4 plus or minus 0.7 μg/g, with a 53% portion of selenium found in the water insoluble fraction and 28% found in the water-soluble fraction. Their results were improved over two previous studies; one using water as an extractor (average yield of 23%)4 and another using NaCl as an extractor, recovering 19% of Se-containing metabolites.5
Se-proteins present in the wheat were categorized into glutenins and gliadins. Glutenins are multichained proteins rich in glutamine and proline. Glutenins contain a low level of charged amino acids with subunits linked through disulfide bridges. Gliadins are also rich in proline and glutamine, and have a low level of charged amino acids linked together by cysteine bridges but are single chained. Selenium was found in the form of selenomethinine and selenocystein.
The selenium-sulfur substitution (Se-S) in cysteine was further investigated in the protein gl121102 using high-performance liquid chromatography, parallel ICP-MS, and electrospray MS. The authors deduced that the Se-S substitution identified may play a role in retaining gas during the formation of gluten in bread dough, and altering the cysteine residues could affect the quality of bread produced.
The MS methods developed by Bianga et al. to determine the selenium content in wheat also have have potential applications with other heteratom-containing proteins such metalloproteins or proteins that have been artificially tagged with metals.
References
1. Hawkesford, M. J. and Zhao, F. J. (2007) "Strategies for increasing the selenium content of wheat.", Cereal Sci., 46, (pp. 282−292).
2. Fang, Y., et al. (2010) "Distribution and in Vitro Availability of Selenium
in Selenium-Containing Storage Protein from Selenium-Enriched Rice Utilizing Optimized Extraction." Agriculture and Food Chemistry, 58, (pp. 9731−9738)
3. Bianga, J. (2013) "Characterization of Selenium Incorporation into Wheat Proteins by Two-Dimensional Gel Electrophoresis−Laser Ablation ICP MS followed by capillary HPLC−ICP MS and Electrospray Linear Trap Quadrupole Orbitrap MS.", Analytical Chemistry, 85 (4), (pp 2037–2043) DOI: 10.1021/ac3033799
4. Moreno, P, et al. (2004) "Study of selenium species distribution in biological tissues by size exclusion and ion exchange chromatography inductively coupled plasma-mass spectrometry." Anal. Chim. Acta, 315, 327
5. Govasmark, E., et al. (2010) "Bioaccessibility of Se from Se-enriched wheat and chicken meat.", Pure and Applied Chemistry, 82, (pp. 461−471)