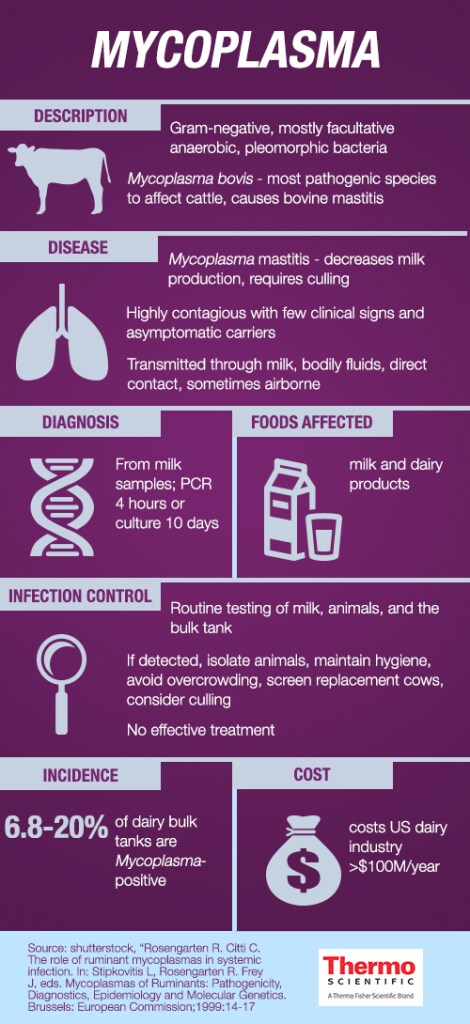 Description
Mycoplasma are generally small (0.3 to 0.8 micrometers), gram negative, mostly facultative anaerobic, pleomorphic bacteria that lack cell walls, rendering them resistant to common antibiotics. Mycoplasma bovis is one of the most pathogenic species to affect cattle and the most frequent cause of bovine mastitis. Other conditions caused by M. bovis include arthritis, pneumonia, meningitis, otitis media, kerato-conjunctivitis, decubital abscesses, vaginitis, synovitis, and genital conditions. Other species that can produce bovine mastitis include M. californicum, M. canadense, M. bovigenitalium, M. alkalescens, M. arginini, M. bovihirnis, M. dispar, bovine group 7, and F-38.
Disease
Mycoplasma mastitis decreases milk production and often requires culling infected animals. Since it is highly contagious and shows few clinical signs of infection (lower milk production and sometimes abnormal udder secretions or inflammation), Mycoplasma mastitis can readily spread through a herd and beyond, if infected animals go to sale.
Herds often contain asymptomatic carriers since mastitis-causing mycoplasmas commonly persist in the respiratory and urogenital tracts of healthy animals. These bacteria can invade other body tissues, including the mammary glands, due to stress (calving, temperature extremes, transportation, disease, external trauma) and produce clinical mastitis. Calf exposure occurs during calving and through contaminated milk. Infected animals shed mycoplasmas, spreading infection through udder secretions, vaginal fluids (during calving), calf nasal discharge, and infected semen. Clinical mastitis can also spread through contact with animals experiencing Mycoplasma-associated respiratory infection, pneumonia, and arthritis. In some cases, transmission is airborne.
Diagnosis
Diagnosis of Mycoplasma infection relies traditionally on microbiological culture using selective media. This can be accomplished through direct inoculation on mycoplasma agar or after pre-enrichment in broth. In this circumstance, clinicians can apply immunofluorescence, immunoperoxidase assay, or PCR for speciation to distinguish among Mycoplasma isolates and eliminate non-pathogenic contaminants. Because mycoplasmas are pH-sensitive, milk samples should be plated immediately after collection, although refrigeration for up to three days or freezing before culturing is acceptable. The use of PCR technologies that detect Mycoplasma DNA directly from milk samples, removing the requirement for culture, enables a more rapid means of diagnosing Mycoplasma infection.
Infection Control
No effective treatment exists for Mycoplasma mastitis. Instead, dairies should focus on disease control through routine sampling of milk specimens and screening of all animals at freshening. For large herds, composite sampling of the bulk tank should occur after each production group, allowing owners to identify infected groups and cows. After an infection has been identified, best practice includes monitoring the bulk tank milk weekly until all cows (including those that were pregnant or dry during the outbreak) calve. Dairies should also:
Isolate Mycoplasma positive animals from the herd.
Employ good milking hygiene practices for infected and suspect cows: rubber gloves and hand disinfection between animals; pre-milking teat disinfection (iodine 0.5 to 1%) and post-milking teat dipping; dedicated milking unit for affected animals.
Avoid barn overcrowding and ensure good barn sanitation practices, especially during calving.
Exercise caution during animal replacement:

screen i

ndividual cows before introduction into the existing herd and the bulk tank when purchasing an intact herd.
Owners should consider culling, depending on several variables (type of infection- subclinical/clinical/chronic, available facilities, number of infected cows, milk production levels, reproductive statuses, and replacement options). This decision is largely dairy-specific and ranges from culling all infected animals to only culling those that demonstrate chronic clinical infection.
Foods Affected
Milk and dairy products.
Incidence
Experts report that 6.8 to 20% of dairy bulk tanks are Mycoplasma-positive at any given time, although prevalence of animal infection is likely higher since mycoplasmas shed intermittently and owners generally withhold mastitic milk from the bulk tank. It is likely that almost all calves from infected herds are positive for M. bovis. 

Learn more about technologies for Mycoplasma detection or visit the Thermo Scientific community pages for further information on microbiology food safety issues.
References
Brishard, S. (2004) 'Mycoplasma Disease in Cattle,' Purdue University Animal Disease Diagnostic Laboratory Newsletter, https://www.addl.purdue.edu/newsletters/2004/fall/mycoplasma.htm.
Encyclopaedia Britannica, 'Mycoplasma,' http://www.britannica.com/EBchecked/topic/400296/mycoplasma.
González, R. (1996) 'Mycoplasma Mastitis In Dairy Cattle: If Ignored, It Can Be a Costly Drain On the Milk Producer,' National Mastitis Council Regional Meeting Proceedings, p. 37, http://www.nmconline.org/articles/mycoplasma.htm.
Maunsell, F. P. et al. (2011) 'Mycoplasma bovis Infections in Cattle,' Journal of Veterinary Internal Medicine, 25 (4):772–783.