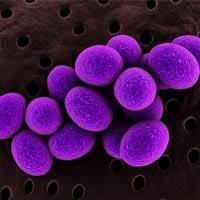 Description
The Staphylococcus genus of Gram-positive, small rounded bacteria appears as series of clusters when viewed under a microscope. Known as "staph" for short, these bacteria are found in soil, air, and water and on work surfaces and everyday objects. They also live in the respiratory systems of animals and humans.
There are 32 species and subspecies within this genus which consist of coagulase-positive and coagulase-negative strains. Staphylococcus aureus is a common pathogenic strain and is defined as coagulase-positive due to its ability to produce an enzyme which causes clotting of the blood. It produces enterotoxins that are responsible for diseases in humans, such as staphylococcal food poisoning, pneumonia, skin infections, endocarditis and toxic shock syndrome.
Incidence
S. aureus causes many outbreaks of foodborne illness across the globe: in the US alone it is responsible for an estimated 241,000 cases, out of which more than 1,000 involve hospitalisation. Around 5 million people in the UK experience food poisoning each year, which includes cases of staphylococcal food poisoning.
Infective dose
The Staphylococcal bacteria is present in the environment and in the nasal passages of 25% of healthy people, rising to 50% or more in sick individuals, i.e. people with throat infections. Contamination occurs from the inhalation of infected droplets caused by coughing or sneezing; consuming foods which have been prepared by an infected individual; and touching surfaces upon which the S. aureus bacteria is present.
Foods affected
Many people associate S. aureus with food poisoning, which is not unreasonable given the versatility of this pathogen which can survive for long periods of time in foods such as meat, poultry, dairy, salads and pastries. The risk of disease increases in these and other foods which have not been stored at temperatures of 40 degrees F or below.

References