With the need for small, precisely crafted parts in products ranging from electronics equipment to medical devices to motors, precision micro machining is growing in importance around the globe. As manufacturers mill a variety of materials at the micro level, they're increasingly turning to scanning electron microscopes (SEMs) to evaluate the quality of finished products and to perform particle analysis of contaminants that might arise during the manufacturing process. Depending on the physical and chemical nature of these contaminants, performing maintenance on expensive micromachining equipment leads to cost savings over time.
For example, KERN Microtechnik, a German manufacturer of high-precision mechanical milling machines, wanted to help its customers reduce their manufacturing costs by identifying why and how soot particles enter the ceramic machining process. These particles can reduce the speed and precision of ceramic machining and ultimately damage a final product.
Soot particles can be introduced into the ceramic manufacturing process in several ways: from polymerized oil from the heat of the milling machine, from metallic parts of the drill, or from the milled piece itself. By identifying the morphology and chemical composition of the soot particle, manufacturers can determine the root cause and take corrective action, whether that's performing maintenance on the milling machine or adjusting the milling recipe to ensure satisfactory quality.
Using the Thermo Scientific Phenom XL G2 Desktop SEM in combination with an energy-dispersive X-ray spectroscopy (EDS) detector, KERN Microtechnik can now conduct particle analysis to quickly identify the morphology and elemental composition of soot particles that enter into the ceramic machining process. The intuitive user interface and short time from loading a sample to getting a result allows quality control specialists to determine the chemical nature of contaminants with ease.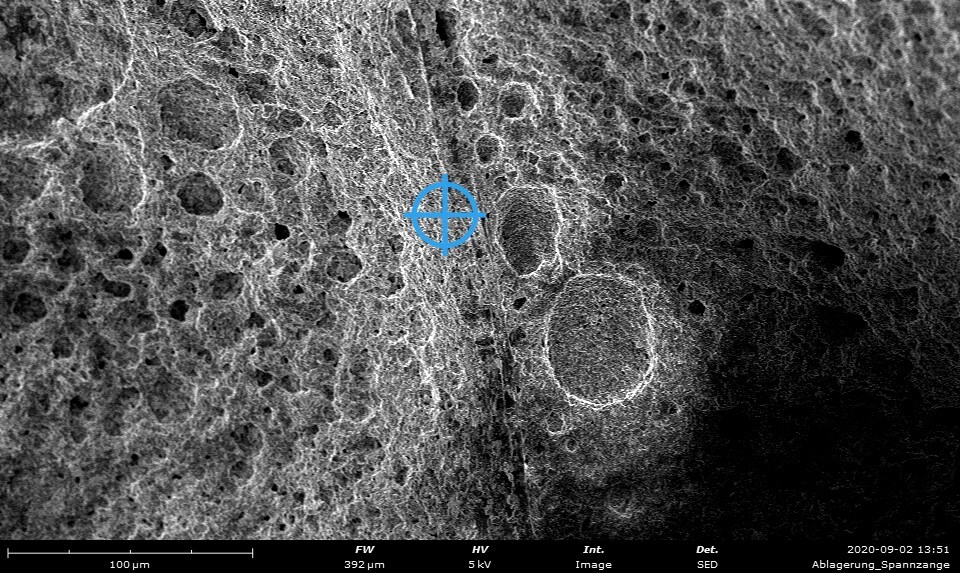 The presence of silicon, which was shown using EDX, proved the ceramic nature of the soot particles. The soot particles therefore did not arise from chemical degradation of the oils, or abrasion of the components of the milling equipment. Without an SEM equipped with EDX, this analysis would not have been possible.
Users can obtain high-quality images in under a minute — substantially faster than other SEM systems. The small form factor of the desktop SEM requires little lab space and allows users to place the microscope exactly where it's needed in the lab or on the production line for real-time analyses.
With the Phenom XL G2 Desktop SEM, KERN Microtechnik has established itself at the forefront of innovation by helping its customers optimize their high-precision milling processes and lower manufacturing costs.  A versatile SEM for the quality control process, the Phenom XL Desktop SEM helps manufacturers quickly perform residue/particle analysis and inspection to improve the milling process for many kinds of materials.
To learn more about the Phenom XL G2 Desktop SEM, please visit our webpage.
Willem van Zyl is an application engineer at Thermo Fisher Scientific.
//
Connect with an expert: https://ter.li/mu8ns9