What is pharmaceutical formulation?
When you take medicine, you're taking more than just the active ingredient: Pharmaceutical formulations are a complex mixture of the active pharmaceutical ingredient (API) and excipients (bulking agents, stabilizers and coatings), resulting in the consumer-ready capsule or tablet. Each component influences the shelf life, dosage and release of the drug, significantly impacting its overall effectiveness and bioavailability.
Pharmaceutical formulations must be optimized—not just chemically, but also morphologically since the physical consistency of the formulation (e.g. homogeneity, texture, particle size, etc.) can affect the bioavailability of the active ingredient.
SEM for morphology analysis
Scanning electron microscopy (SEM) is well suited for morphological analysis, as it can provide high-quality, nanometer-scale images of powders and particles. SEM can be used to assess raw materials from different suppliers or compare one batch to another. The finished product can also be analyzed using a SEM, which can help analysts discover the root cause of quality issues.
Desktop SEM for the study of pharmaceutical formulation
Our customers use the Phenom ProX Desktop SEM to determine particle size and shape of their pharmaceutical formulations. While particle size can be determined using analytical techniques like laser diffraction, these techniques don't indicate whether multiple smaller particles have agglomerated into larger ones. A SEM can visualize the extent of agglomeration, providing valuable insights into the quality of raw materials and finished products.
While this type of characterization can easily be integrated into an R&D workflow, it is challenging to bring the instrumentation in house, as SEMs can be cost prohibitive and require a large, dedicated laboratory space. Small pharmaceutical companies often rely on larger shared facilities to outsource their SEM analysis, where instrument availability comes at a premium, but turnaround time significantly delays R&D. Luckily, with a desktop SEM, analysis can be done within the same day, rather than multiple days using an external SEM facility.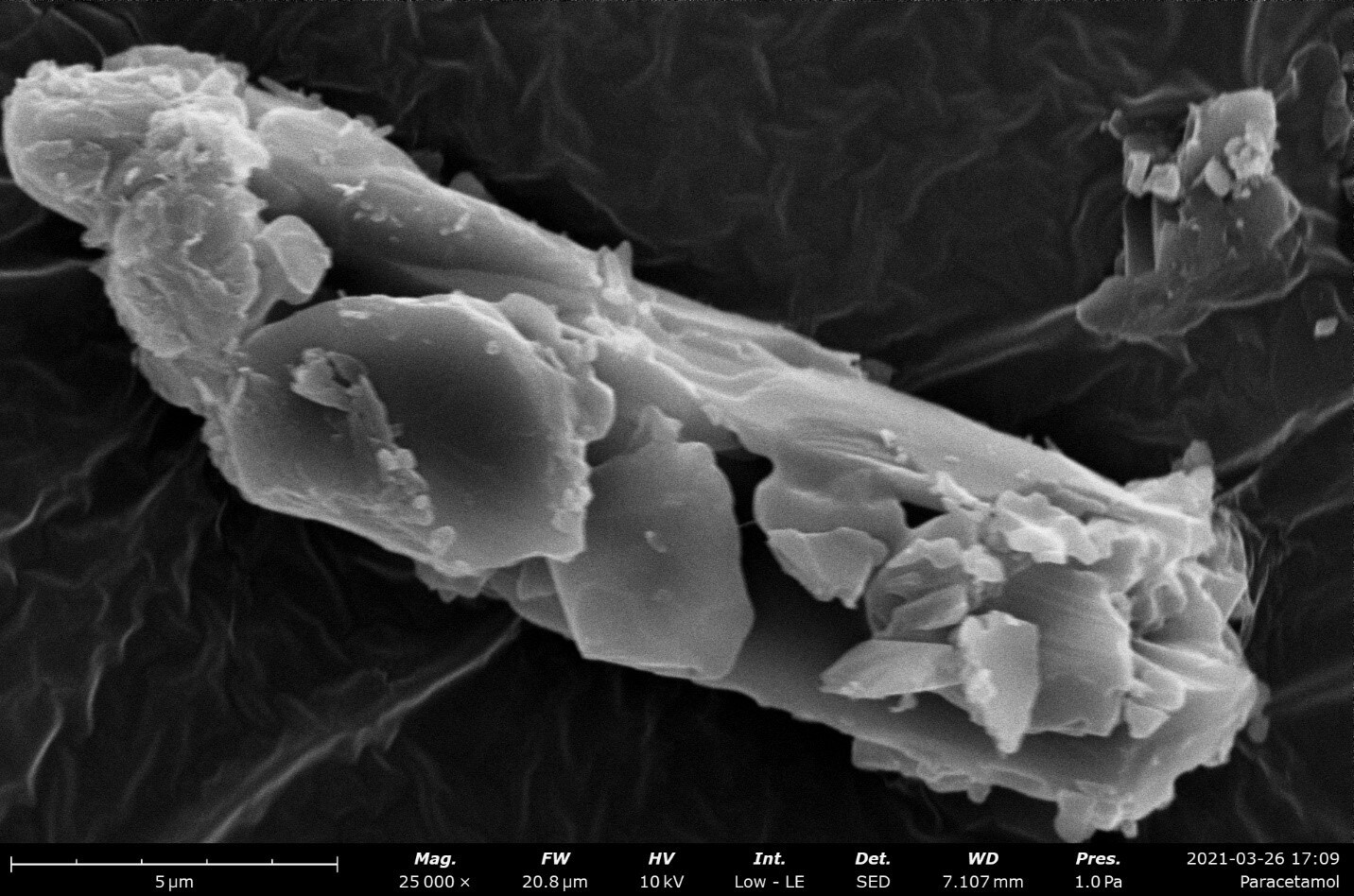 Pharmaceutical formulation visualized with a Phenom ProX Desktop SEM. Using data like this, researchers can analyze particle morphology and examine the degree of particle agglomeration.
 Our desktop SEM instrumentation is designed to address these common hurdles in the adoption of SEM analysis for pharmaceutical formulations. Desktop SEMs have a lower adoption cost and feature a significantly smaller footprint so they can be integrated into any analytical lab. The Thermo Scientific Phenom ProX G6 Desktop SEM is particularly useful in the pharmaceutical industry, where a fast turnaround time is important. The intuitive user interface requires minimal user training, which allows inexperienced operators to quickly evaluate their samples . As such, the morphology of excipients and API's can be evaluated with ease. Furthermore, with Quartz Imaging software, the Thermo Scientific Phenom ProX G6 Desktop SEM acquires SEM images that comply with 21 CFR part 11.
Please visit our Phenom ProX G6 Desktop SEM webpage to learn more.
Willem van Zyl is an application engineer at Thermo Fisher Scientific.
//
Connect with an expert: https://www.thermofisher.com/us/en/home/global/forms/industrial/spectroscopy-materials-analysis-inquiries.html