Tubular heating elements, or Calrod type heaters, are found in a wide range of residential appliances from dishwashers and water heaters to heating blankets, toasters and hair dryers. Although these appliances are generally safe, if they fail, they can cause fires that result in significant property damage and even loss of life.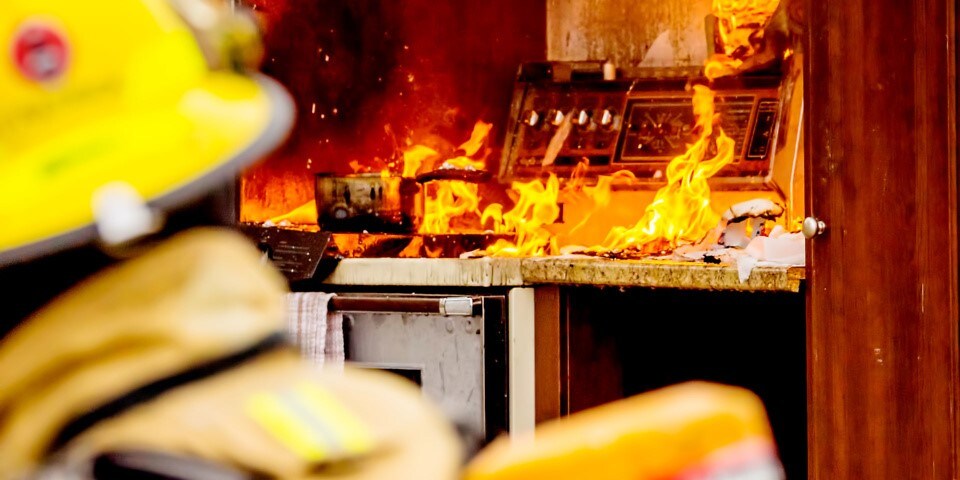 To prevent product defects and ultimately design safer appliances, researchers must identify the root cause of heating element technology failures. As part of this analysis, scientists examined the tubular heating element from a kitchen stove.
Calrod type heaters include an electrical connection from a power supply to a coiled length of resistive wire wedged between two electrical terminals called "cold pins." These coiled wires are typically nichrome or kanthal alloys that are surrounded by an insulating material made up of magnesium oxide powder that can withstand extremely high temperatures. Both the coiled wire and insulating material are encapsulated by a tube or sheath made from ferrous materials such as steel, cast iron, or stainless steel or non-ferrous materials such as aluminum, copper, titanium, or quartz.
To determine the cause of heating element failure, researchers collect a wide variety of data including dimensional information, electrical measurements and material characteristics. As part of this analysis, they typically use a combination of scanning electron microscopy (SEM) and energy dispersive X-ray spectroscopy (EDS) to probe both the structure and elemental makeup of the failed device— and thus the defect that caused its breakdown.
Using the Thermo Scientific Axia ChemiSEM, researchers identified re-melted beads of nichrome, indicating extreme overheating of the tubular heating element.
SEM and EDS is useful in determining the composition of the coiled heating element wire, the insulator and the sheath and specifically if there is evidence that the coiled heating element had shorted due to the protective sheath causing high temperature arcing, becoming the ignition source for the resulting fire. Historically, SEM-EDS has been a complex workflow that required researchers to switch between two separate systems. They would need to use a traditional SEM to acquire structural information and then switch to a different computer, software and user interface for EDS analysis. Not only was this process cumbersome, but it required a lot of user training. In addition, most SEMs on the market aren't equipped to handle large samples and require a substantial amount of sample preparation.
The Thermo Scientific Axia ChemiSEM simplifies these analyses by integrating SEM and EDS into a single platform without the need to switch between two systems. EDS analysis is always-on, giving users instant access to quantitative elemental information about the heating element directly from within the SEM image. Researchers can turn on the EDS analysis information when they need it. They can also turn specific elements on and off, allowing them to isolate areas of the heating element for further exploration.
The Axia ChemSEM can provide actionable data up to twice as fast as conventional SEM-EDS. It automates alignment and other functions to remove complexity from the workflow, allowing researchers to perform SEM-EDS analyses with minimal training. Moreover, the instrument comes with a large, flexible chamber that can easily accommodate large samples like tubular heating elements.
Using the Axia ChemiSEM, researchers can rapidly identify the structure and elemental composition of heating elements at the micro-level to pinpoint the cause of their breakdown. They can get the data they want far faster than conventional SEM-EDS analysis, ensuring any defects are quickly removed and future appliances are safely designed.
To learn how to determine the root cause and prevent failures with SEM/EDS, watch our on-demand webinar.
//
John Yorston is a Senior Product Specialist at Thermo Fisher Scientific.