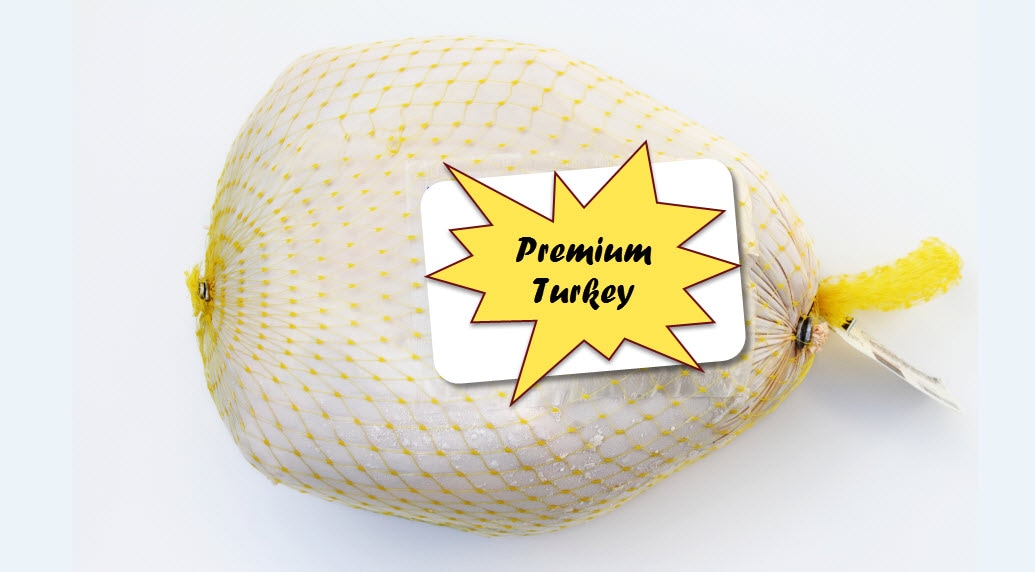 When one thinks of a typical Thanksgiving dinner, turkey is probably the first thing that comes to mind. Visit some of the online food recipe sites and you will find instructions for roasting, brining and deep-frying the bird. You will also find hundreds of recipes for the stuffing, with or without chestnuts, apples, sausage, vegetables, cranberries, and variety of bread and herbs. There's a lot of attention paid to what goes into the turkey*, but little focus about how that turkey was packaged when you purchased it.
Chances are if you did not buy a fresh bird, then the turkey was wrapped in plastic, usually a multi-layer polymer film. In food packaging, polymer laminates are used not only to protect the food, but also to retain aroma and flavors, and to extend shelf life.
According to the USDA, because packaging touches the poultry, it is considered an indirect additive because chemicals in packaging can migrate into the food. Any material intended for use in food packaging must be formulated in compliance with FDA requirements for its intended use. Here is an excerpt from the USDA site:
Meat and poultry products may not be packaged in a container composed of any substances that may adulterate the contents or be injurious to health. Packaging materials entering a meat or poultry plant must be accompanied or covered by a guaranty or statement of assurance from the packaging supplier. The guaranty must state that the material complies with the Federal Food, Drug and Cosmetic Act (FFDCA). It must also state the brand name, supplier, and conditions for use, including temperature and other limits….
Needless to say, strictly controlling the quality and composition of these films is important to the manufacturers of polymer film, the food processors, and to the customers who are walking down that grocery store aisle. The last thing a Thanksgiving dinner host wants to encounter on the morning of the holiday is a spoiled turkey. And the last thing a food processor wants is to violate FDA regulations.
Because food processors adhere to strict quality control procedures, including analysis of the products used in the plant, plastics manufacturers must do the same. But sometimes problems can occur during film manufacture. Multi-layer films are produced using co-extrusion and lamination techniques, and can encounter problems like introduction of defect particles and separation of the layers.
Raman spectroscopy provides an excellent means of analysis and quality control. The technique is highly sensitive to small changes in molecular backbone and branching configurations and is thus ideal for polymer identification. Raman requires almost no sample preparation. Confocal analysis generates rapid depth profiles with a 2 µm spatial resolution, while cross-sectional analysis of multi-layered films provides 1 µm resolution or better. Spectral differences can be exploited to estimate thickness of the constituent layers, while searching spectral libraries identify their composition. The confocal analysis and high spatial resolution of Raman microscopy also makes this technique ideal for identifying the source and identity of defects and inclusions in polymer films.
Most multi-layer samples are prepared for microscopic analysis by immobilizing the film in epoxy followed by carefully microtoming into micrometer-thin slices. This is necessary for an absorption technique such as infrared spectroscopy in order to prevent over-saturation of the bands. However since Raman spectroscopy is an emission technique, sample thickness is not a critical concern. The microtome slices can be much thicker, since only the cross-sectioned end will be analyzed. Samples can also be simply cross-sectioned, placed cut side up on a glass slide, and immobilized using a small piece of double-sided adhesive tape or putty.
Layer composition and thickness can be estimated from both the cross-section map and from the confocal depth profile of the sample. We conducted an experiment involving Confocal Raman Microscopy Analysis of Multilayer Polymer Films. The study concluded that dispersive Raman microscopy is an excellent technique for the analysis of thin multi-layer polymer materials. The spatial resolution of the Raman microscope enables the analysis and detection of layers less than one micron in thickness. The confocal optical design enables quick identification of the layers, and the excellent spatial resolution in the x, y dimensions permits a more rigorous examination of the material by cross-sectioning.
So while you are planning on how to dress your turkey for Thanksgiving dinner, be thankful that the plastics manufacturers ensured your turkey would be dressed in the appropriate polymer film.
Happy Thanksgiving!
Note: *The United States Department of Agriculture offers some tips and warnings about stuffing a turkey.