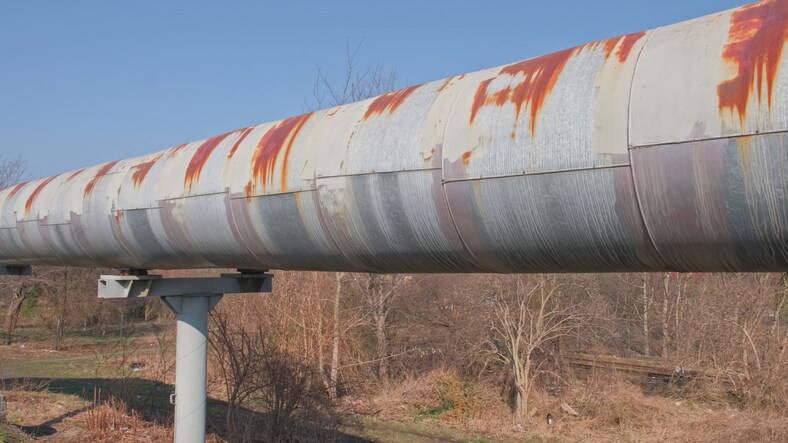 Have you read about the new Federal regulations that add more than 400,000 miles of "gas gathering" pipelines under Federal oversight. According to the PHMSA 06-21 notice, "The rule, initiated over 10 years ago, expands the definition of a 'regulated' gas gathering pipeline that is more than 50 years old. It will—for the first time—apply federal pipeline safety regulations to tens of thousands of miles of unregulated gas gathering pipelines.  The final rule will—also for the first time—require pipeline operators to report safety information for all gas gathering lines, representing more than 425,000 additional miles covered by Federal reporting requirements." The agency believes it's a major step to enhance and modernize pipeline safety and environmental standards.
There is a lot of metal to be inspected in the oil and gas industry – from pipes to storage tanks including fasteners and welds – and if you think about the almost half million additional miles that must be reported upon, it can be overwhelming. In addition, pipelines constructed of cast and wrought iron, as well as bare steel, are among the oldest energy pipelines constructed in the United States and pose the highest-risk due to the degrading nature of iron alloys, the age of the pipelines, and pipe joints design.  Aging infrastructure more often provides the challenge of "in-situ" or retro-PMI testing to confirm existing assets are fit for service.
We'll be discussing the new rule and technologies that can help meet reporting requirements at the 2022 API Inspection and Mechanical Integrity Summit and Expo, which is being held in person this year from August 9-11 in San Antonio, TX.  The 3-day conference is an established inspection related event in the petroleum industry.
Those going to the show will be able to attend in-depth training, educational sessions, and focused networking on all inspection-related concerns of the oil, gas and chemical industry — including Upstream (drilling, sub sea, production systems, integrity management), Midstream (pipelines, terminals), and Downstream (refining, chemical and storage).
The various sessions and exhibits provide attendees with an opportunity to learn about new and existing industry codes and standards, hear about emerging trends from experts, and discuss new issues that they face. If you want to discuss the  PHMSA 06-21 notice in more detail, and learn about the latest technologies used to inspect pipelines, stop by booth 405 where we will be demonstrating the latest XRF portable instruments and LIBS analyzers for Positive Material Identification (PMI).
X-ray fluorescence spectroscopy is a non-destructive analytical technique used to determine the elemental composition of materials, including the metals from which the pipes, fasteners, and tanks are made. Laser Induced Breakdown Spectroscopy (LIBS) is a form of atomic emission spectroscopy that uses a laser to ablate the surface of a sample to obtain elemental data. This technology helps identify low alloy/ carbon steels and L and H grade stainless steels.
As you most likely know, Positive Material Identification (PMI) of the metals and alloys involved in a pipeline is an important task in inspection and confirming material integrity. According to one study, about 10% of corrosion-related accidents declare the inadequacy of material composition as the key component for failure1.
One example illustrating the need for inspection involves natural gas or oil pipelines under repair where old pipe is cut out and replaced with new. The integrity of the new weld depends on the total compatibility of the two pieces of pipe being fused together. The weldability of the two pipes is primarily influenced by its carbon content along with a contribution of other elements, such as manganese (Mg), chromium (Cr), molybdenum (Mo), vanadium (V), copper (Cu), nickel (Ni), and silicon (Si). (Read The Importance of Analyzing Pipes and Welds to Determine Carbon Equivalency.)
Ask our experts about how carbon content influences the weldability of steel and how by analyzing the materials and understanding chemistry differences through carbon equivalency, it can be determined if the properties of two materials being joined together via filler metal components are compatible – which is key to safety.
We'll also have people on hand to discuss how sulfidation (sulfidic) corrosion affects steel piping and equipment and continues to be a significant cause of leaks in the refining industry, and how residual elements (REs) in carbon steel can contribute to accelerated HF corrosion, primarily chromium, nickel and copper elements.
Equipment failure is a primary cause of losses at refineries, chemical plants, pipeline networks, and gas processing facilities. Such failure can often be traced to the inadvertent or inappropriate substitution of construction materials, leading to potentially catastrophic consequences. Verifying the mechanical integrity of systems, piping, etc., is dependent on ongoing precise and accurate analysis of materials. Retroactive Positive Material Identification (PMI) using XRF portable instruments and LIBS analyzers helps ensure that critical system components in pipelines are what they are supposed to be, identifying problems or inappropriate materials before failure happens.
Stop by and see us at the show, but if you can't make it and want to know more about PMI technologies in the oil and gas industry, visit our website. Or read more about Conducting Retroactive Positive Material Identification to Prevent Failures related to Corrosion in the Oil & Gas Industry.
Show Details:
2022 API Inspection and Mechanical Integrity Summit and Expo
Booth 405
August 9-11, 2022
Grand Hyatt San Antonio
San Antonio, TX 
1Wood, M., Vetere Arellano, A., Van Wijk, L. (2013). Corrosion-Related Accidents in Petroleum Refineries: Lessons learned from accidents in EU and OECD countries. JRC Scientific and Policy Reports.


Additional Resources: