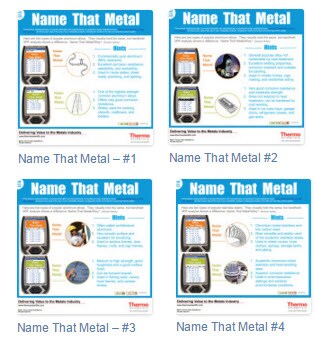 It seems parlour games are all the rage now. There's a television show that 'hosts' a games night.  Friends are getting together on Saturday nights to play trivia, word games, picture drawing games, and even pie-smashing-in-the-face games.  So it seems appropriate to run our Name That Metal game again.  Over a year ago, we set a weekly challenge to name a metal by its XRF analysis. We analyzed samples and took screen shots from our handheld XRF analyzer.  We even gave hints.
Feel free to gather your colleagues in your metalworking shop, scrapyard, or manufacturing floor and spend your lunch break challenging each other's knowledge of metals and alloys.
Click on the links below for four different games (two challenges each).  Just, please, don't talk with your mouth full.
Good luck.  Comment below and tell us who won!