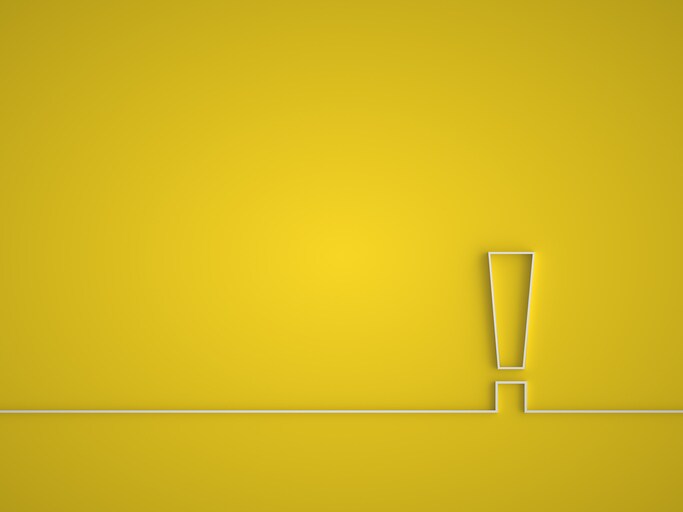 There was a recent article in MetalForming Magazine which advised that when it comes to safety efforts, more is best.  We can't agree more.
The article focused on safety and the law, including regulations enforced by the U.S. Occupational Safety and Health Administration (OSHA).  However, I'd like to focus this article on safety for the sake of health.  We previously published a reader's question about the safety of instruments using x-ray fluorescence (XRF) and we offered 7 Safety Tips When Using Handheld XRF Analyzers Offered for ISRI Safety Stand-Down Day.  I will re-iterate the main tips below and then go into some additional detail.
First of all, metal workers use handheld XRF instruments for metal alloy verification. Because wrong or out-of-specification alloy grades can lead to potentially catastrophic equipment failures (a well-known issue in the refining and aerospace industries), portable XRF analyzers are used extensively in manufacturing quality programs and metal service centers. These instruments are very easy to use and they are safe (A previous article, I Use XRF Analyzers on Metals… Is it Safe?, noted that the radiation emitted from a portable XRF analyzer is similar to the exposure received in a normal medical or dental x-ray), but they must be used properly to maintain a safe working environment.
Here are seven safety tips when using these handheld XRF analyzers:
7 Safety Tips When Using Handheld XRF analyzers
Provide radiation safety training to operators
Never aim the device at yourself or others when the primary beam (x-ray on) lights are illuminated
Never hold samples during analysis
Be aware of primary beam indicator lights
Handle and use with respect
Store securely – obey local storage requirements
If you have a Safety Emergency, notify your Radiation Safety Officer (RSO) and analyzer vendor
Remember that portable XRF analyzers are designed to be safe to operate provided that they are used in accordance with the manufacturer's instructions. Anyone operating a handheld XRF analyzer should be familiar with the information presented in the user's manual and follow the instructions to ensure their safety and the safety of those present when the tool in use.
The first step is knowing where the primary beam is.  (If you would like to know more about the basics of the analyzer itself and get an illustration of each of its components, you can access a free ebook here: Portable XRF Technology for the Non-Scientist.)
An XRF analyzer usually contains an x-ray tube which emits a "primary beam" of high intensity x-ray radiation into the sample during a measurement. The radiation is produced and emitted only when the x-ray tube is turned on during which time "x-ray on" indicator lights will illuminate. In most applications, the majority of the primary beam x-rays are absorbed in the sample. If there is no sample present (i.e., the primary beam pointing into an open air space) and a measurement is initiated, most systems are designed to turn off the x-ray tube automatically (check your owner's manual to confirm).
You should never place any part of your body in the primary beam path when the "x-ray on" indicator lights are illuminated. During operation, your hand that is gripping the trigger should always be the closest part of your body to the primary beam. There should always be a sample in contact with the measurement window during a measurement. Caution should be taken when analyzing samples that are small, thin, and/or low in density as they may allow much more of the primary beam to escape, or scatter.
Under conditions of normal and proper use, operators can be exposed to small amounts of secondary (or "scattered") radiation. Scattered radiation from a handheld XRF analyzer is low-level radiation that emanates from the sample being measured. This radiation emanates from the sample only during the measurement period. This low level radiation is a result of primary beam radiation scattering in the sample and primary beam radiation inducing the production of fluorescent x-rays in the sample. The magnitude of this scattered radiation is sample dependent. Higher density and atomic mass samples such as steel will emit the lowest levels as they absorb most primary and scattered radiations. Lower density samples such as aluminum, wood, and especially plastic, will produce higher levels of scattered radiation.
Be cognizant at all time if the x-ray light is on or not.  When the "x-ray on" lights are illuminated, the primary beam is on, and this radiation is being emitted from the front of the analyzer.
Most samples can be analyzed safely on a work surface with the primary beam pointing down. However, when working with challenging sample types, you must consider transmission of the primary beam through a work surface if you have chosen not to use a test stand during analysis. The image below illustrates the hazard that can be present if you are working in a seated position while analyzing sample types that do not cover the measurement window or absorb the majority of the primary beam radiation.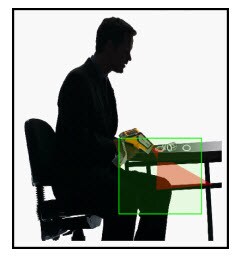 Notice that the operator's legs are now in the primary beam path. As discussed earlier, you should always be aware of the location of the primary beam and take proper precautions to ensure that no part of your body is exposed to the unshielded primary beam radiation during analysis. In the example of an operator who needs to routinely sit and analyze small, thin, or light samples, shielding can be added to the table, if necessary, to prevent exposure to the legs. A sheet of steel affixed to the underside of the table can be used to shield the primary beam. It takes about 6.5 mm (1/4 inch) of steel to fully shield the primary beam at maximum tube power settings.
Of course, getting proper XRF radiation safety training should occur before you even pick up an XRF instrument. Also, keeping your analyzer maintained in good condition will help minimize the risk of accidental exposure. In addition, your organization should establish, document, and follow a basic radiation protection program; some manufacturers may provide a program sample to their users.
Operators can be monitored for the radiation dose they receive by use of radiation dosimetry devices (dosimeters). Monitoring dose using a dosimeter can be a way of identifying improper use, but more often it provides a record demonstrating that radiation exposures are well within established limits. In some locations, dosimetry is required by regulations and in others it is optional. We always recommend that you determine and obey the local regulatory requirements concerning such radiation monitoring of occupational workers. Note that wearing a dosimeter badge does not protect you against radiation exposure. A dosimeter badge only measures your exposure (at the dosimeter location).
Editor's Notes:
If you are a Thermo Fisher Scientific customer and have a safety emergency with your Thermo ScientificTM NitonTM handheld XRF analyzers, please call our service department at 800-875-1578 for further instructions.
View the above-named ebook here: Portable XRF Technology for the Non-Scientist
Additional Resources: