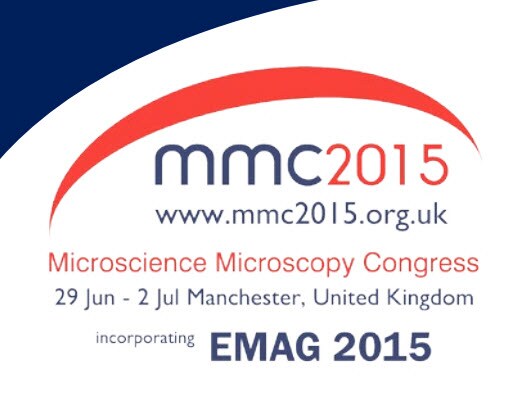 X-ray microanalysis plays a key role in the development, production and failure analysis of metals and advanced metallic materials due to its ability to examine samples down to the nanometer scale. This valuable technique provides elemental and chemical information about the sample to supplement the morphological information provided by the electron microscope.  Advances in Energy-Dispersive X-ray Spectroscopy (EDS) X-ray microanalysis technology enables electron microscopists to distinguish overlapping peaks in transition metals even when using low voltages, where L-lines are prone to energy conflicts. However, if you run an SEM that requires even better spectral resolution than what even the best EDS can provide to your metals application, make sure you sign up for the workshop Smarter spectroscopy with WDS: When EDS isn't good enough at mmc2015.
mmc2015, the Microscience Microscopy Congress, brings together various disciplines and areas of microscopy and imaging.  It is one of Europe's largest exhibitions dedicated to equipment, services and training that enable accurate and reliable measurements, all of which are essential tools throughout the metals industry.
With the advent of silicon drift detector technology, EDS has undergone a revolution in performance. Modern Energy Dispersive Spectroscopy (EDS) detectors boast increased productivity with larger active areas and higher throughput, yielding vastly improved spectral performance  for improved light element sensitivity and sharper energy resolution. These advances in EDS have led some to believe the complementary Wavelength dispersive spectroscopy (WDS) on the SEM is now obsolete—and in the case of many WDS systems, that assumption would be correct. However, a concurrent revolution in WDS technology, using hybrid optic and parallel-beam X-ray techniques, coupled with a complete automation of the instrument has resulted in a modern WD spectrometer that effectively fills the existing, critical gaps in EDS technology.
Make sure you stop by Booth 306 and ask our experts your challenging spectroscopy questions.  We will also be demonstrating Electron Backscatter Diffraction, X-ray Microanalysis, and other microscopy and microanalysis technology.
If you have some extra time before or after the show, the Manchester Central website offers many different things to do while you are in the area. Manchester is bursting with events for everyone, from live music and sports to museums, art and theater. In fact, the website offers 'Top 5' guides to the must-see and most unique things to do in Manchester.
If you can't be at the show, visit our event page, or follow the show Facebook or twitter page using the hashtag #mmc2015. And if you like taking selfies, the show reps are offering a special social media incentive:
All you need to do is download a copy of our mmc2015 poster and pin it somewhere prominent – it's A4 so not too big – and use your photographic skills to capture a great selfie.
Email or text* it to selfie@mmc2015.org.uk, or tweet @RMSmmc #mmcselfie and you could win a prize. We are anticipating lots of departmental and company noticeboards, but who knows, use your imagination!
A prize will be awarded for the one that makes us smile the most, and also for the one from furthest away!
Hope to see you there… in person.
Show Details:
Microscience Microscopy Congress 2015
29 June – 2 July 2015
Manchester, UK
Booth 306
Free Seminars:
Tuesday, 30 June 2015 – 15:30 – 16:15 
Phase mapping, statistics and COMPASS
Wednesday, 1 July 2015 – 13:15 – 14:00 
Smarter spectroscopy with WDS: When EDS isn't good enough
Click here to Register or for more information