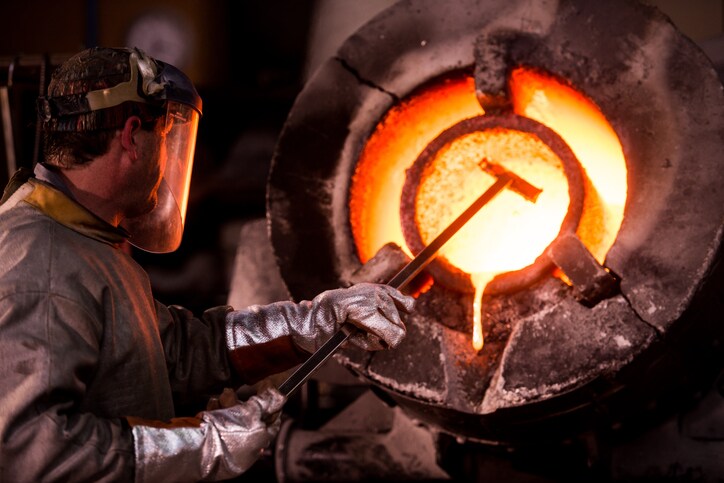 Steel, an alloy of iron and carbon containing less than 2% carbon, is our most important construction and engineering material, with over 1.6 billion tonnes of crude steel produced in 2015 according to the World Steel Association. About 70% of this steel is produced by Basic Oxygen Steelmaking (BOS), also known as the Basic Oxygen Process (BOP). The most common type of steel converters are known as Basic Oxygen Furnaces (BOF), also known as Linz Donawitz (LD) converters.
In the BOF, carbon-rich molten iron from the Blast Furnace is converted to steel by blowing oxygen through a top-mounted lance at supersonic speeds into the molten iron. Carbon in the molten iron reacts with oxygen to form carbon monoxide (CO) and carbon dioxide (CO2). The process is known as basic because chemical bases of lime or dolomite are added to promote the removal of impurities and protect the furnace lining. Modern BOFs can handle several hundred tonnes of iron and convert it to steel in around 30-40 minutes, with the oxygen 'blow' typically lasting around 20-25 minutes. Scrap metal can be added to the molten iron to improve recycling. Some converters blow oxygen through the bottom of the furnace—these are known as Q-BOP (quick-quiet BOP) or OBM (Oxygen Bottom-blowing Maxhütte).
Steel is commonly described as mild, medium- or high-carbon, according to the percentage of carbon it contains, although this is never greater than about 1.5%. Adding metals such as nickel, chromium, and tungsten produce a wide range of alloy steels such as stainless steel.
In a highly competitive industry, steel producers have to ensure their furnaces are operating at maximum efficiency, maximizing product quality and process safety while minimizing energy consumption and environmental impact. A key requirement is to monitor, control and optimize the conversion of carbon to carbon monoxide and carbon dioxide, so analysis of the off-gas from the furnace is a vital part of the process control strategy.
Historically, two Non-Dispersive Infra-Red (NDIR) analyzers were used, one to measure CO, the other CO2. Additional discrete analyzers were required to monitor oxygen and hydrogen – typically paramagnetic O2 analyzers and thermal conductivity analyzers for H2. Process mass spectrometers are now widely used for many important gas analysis applications on iron and steel plants, including blast furnace top gas analysis, coke oven gas analysis, secondary steel process control, fuel gas analysis and direct reduction iron processes. Many steel producers have incorporated mass spectrometers into their manufacturing processes to provide improved dynamic process control. As well as carbon monoxide and dioxide, the MS analyzes oxygen, hydrogen, nitrogen and argon, providing a complete gas composition profile in seconds, replacing a number of discrete analyzers with a single reliable system.
Read Improving product quality and process efficiency in basic oxygen steelmaking to learn why BOS off-gas analysis using a process mass spectrometer provides accurate, real time off-gas analysis data to furnace control systems and dynamic control models, resulting in significant process benefits.