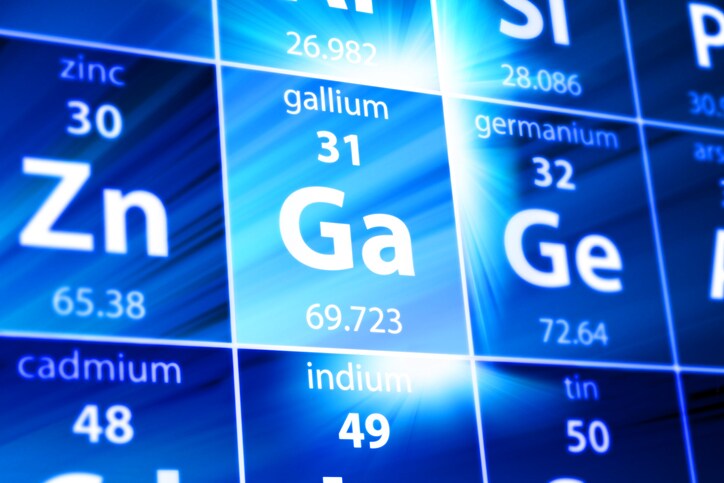 This spring, the U.S. Geological Survey (USGS) updated its USMIN Mineral Deposit Database (USMIN) for the mineral commodity gallium, one of 35 mineral commodities declared critical by the U.S. Department of the Interior in 2018.
The Web Elements website describes the element — Number 31 on the Periodic Table — as having "a beautiful, silvery appearance, and the solid metal exhibits a conchoidal fracture similar to glass." There is one warning with the metal element, however. It expands on solidifying so it should not be stored in glass or metal containers, as they may break as the metal solidifies. Another note from the National Library of Medicine, is that ingestion of this material may be toxic. "It is corrosive to aluminum. If exposed to high temperatures, gallium may emit toxic fumes which may form a corrosive alkaline solution with water."
Gallium is used to manufacture integrated circuits and optoelectronic devices, which include laser diodes, light-emitting diodes (LEDs), photodetectors and solar cells. According to LiveScience, about 95 percent of all gallium produced is used to make gallium arsenide (GaAs), a compound used in microwave and infrared circuits, semiconductors and blue and violet LEDs, The compound gallium nitride (GaN) is used as a semiconductor in Blu-ray technology, mobile phones and pressure sensors for touch switches.
The latest USGS Mineral Report notes,
Gallium occurs in very small concentrations in ores of other metals. Most gallium is produced as a byproduct of processing bauxite, and the remainder is produced from zinc-processing residues. The average gallium content of bauxite is 50 parts per million. U.S. bauxite deposits consist mainly of subeconomic resources that are not generally suitable for alumina production owing to their high silica content. Some domestic zinc ores contain up to 50 parts per million gallium and could be a significant resource, although no gallium is currently recovered from domestic ores. Gallium contained in world resources of bauxite is estimated to exceed 1 million tons, and a considerable quantity could be contained in world zinc resources. However, less than 10% of the gallium in bauxite and zinc resources is potentially recoverable.
No domestic primary (low-purity, unrefined) gallium has been recovered since 1987. Globally, primary gallium is recovered as a byproduct of processing bauxite and zinc ores….
Miners seek solutions for rapid geochemical analysis that will enable them to increase exploration discovery success rates of critical and other minerals and metal elements, identify drill targets quickly, make on-site decisions about whether to stop or continue drilling, and decide where to focus on the grid.
Portable X-ray fluorescence (XRF) analyzers are making a critical difference in mining exploration and processing. They can provide rapid, on-site qualitative screening directly in-situ or lab-quality quantitative analysis on prepared samples, bypassing the costly and time-consuming process of sending samples to off-site laboratories and waiting days, or even months, for critical data. With rapid sample analysis, you get real-time geochemical data to guide drilling decisions, enable high-productivity operations, and gain a competitive advantage.