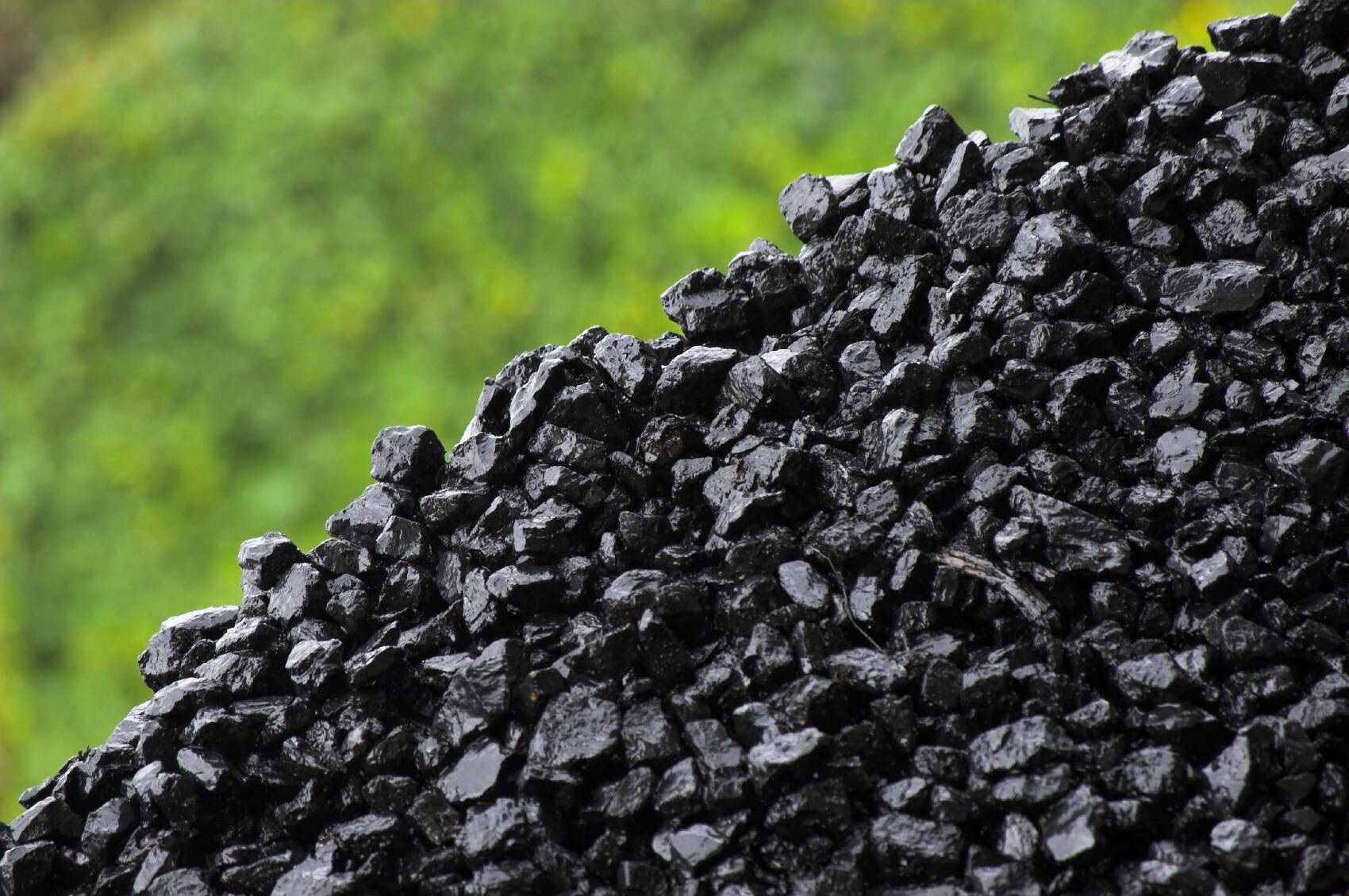 Coal begins as peat, which consists of loosely consolidated layers of various mixtures of plant and mineral matter that has accumulated in wetlands.  The U.S. Geological Survey (USGS) describes the origin of coal as follows: "Millions of years, burial, compression by overlying inorganic sediments, and the effects of heat (from depth in the earth or proximity to volcanic sources) cause peat to change to coal. The resultant coal is an extremely complex, mostly organic, generally well bedded sedimentary rock."
Because that coal originated in wetlands, it can contain little or lots of moisture by the time it is mined.  And the amount of moisture present in the coal dictates how the coal will be used.  A USGS example explains that lignite is soft, dusty, and can ignite spontaneously under the appropriate conditions, whereas anthracite is quite hard, clean to the touch, and must reach a temperature of about 925°F before it will ignite. Lignite contains more moisture and oxygen and less fixed carbon than anthracite. Subbituminous and high-volatile bituminous C coals have oxygen and moisture content and calorific values that range between those of lignite and anthracite.
The Lignite Energy Council reports that "About 79 percent of lignite coal is used to generate electricity, 13.5 percent is used to generate synthetic natural gas, and 7.5 percent is used to produce fertilizer products (anhydrous ammonia & ammonium sulfate). A very small percentage is used as home heating fuel, for use as fertilizer and for use as oil well drilling mud."  Anthracite coal, on the other hand, is a hard, glossy black coal that is used for home heating and steel making.
Mining companies know that moisture content is critical to the coal's application, which is paramount to meeting customer requirements.  For example, moisture analysis for mining applications is needed for:
Dust reduction by preconditioning bulk minerals with water addition. The key challenge is to add just enough water to achieve dust extinction but not so much that the ore becomes sticky and clogs chutes and blinds screens.
Transportable Moisture Limit (TML) for shipment, both for the customers and the shipping operators.
Feed forward control in critical drying or calcining applications.
Moisture compensation for accurate metallurgical accounting.
Control of critical moisture levels in pelletizing and sintering applications.
Moisture specification monitoring in thermal power applications.
Control of filter presses and centrifuges in dewatering applications.
Microwave moisture analyzers work on the principle that water has a very high dielectric constant compared to most other materials. When microwaves intersect with water molecules within the material they slow down (and hence change phase) and weaken (attenuate) as the energy is transferred to the material. A Low Frequency Microwave (LFM3) moisture analyzer has a low profile antenna, which transmits a low frequency signal through the material on the conveyor belt. The signal is received by a receiver antenna located below the conveyor belt. The received signal is compared to the transmitted signal for phase and amplitude change. This helps ensure accurate measurement of all material between antenna pair in difficult applications where vertical material segregation occurs. The first microwave based moisture content analyzers used only one characteristic of the microwave – the attenuation. Nowadays, most free moisture content analyzers use both attenuation and phase shift techniques.
The key to providing customers with the right amount of free moisture is getting an accurate analysis of the free moisture in the coal. When you are processing coal, too much liquid can cause safety hazards, machinery breakage, and loss of customers.