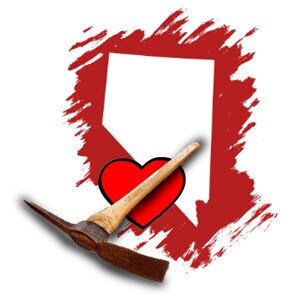 Within the Goodsprings quadrangle in the extreme southern part of Nevada, bounded on the east by the Colorado River, lies the Valentine Mine.
In 1931, the US Department of the Interior published Professional Paper 162, which reported the Geology and Ore Deposits of the Goodsprings Quadrangle, Nevada. According to the report, early in the 20th century, the Goodsprings district attained eminence as the principal source of zinc ores in Nevada. However, because the district lay in an arid region and mine operations costs were high in that area at the time, production fluctuated widely in response to the prices of the metals. In addition, few zinc deposits were entirely free of lead minerals and a few lead deposits contained no zinc minerals. The report indicated that "… most of the zinc and lead deposits were removed from outcropping bodies of intrusive rock, and if it were not for the regional relations of all the metalliferous deposits and the association of the widespread dolomitization of limestone and certain structural features, it would have been difficult to prove a genetic relation of the intrusive rocks to the zinc and lead deposits." (I wonder if their work would have been easier if they had used the technology we have today, like handheld x-ray fluorescent analyzers.)
Despite the shortcomings, the Valentine Mine did have some success. Owned by the Valentine Mining Company, it was in operation intermittently from 1910 until sometime before the 1931 report was issued. In the years 1910-1918, close to 150,000 pounds of zinc were produced from the mine. In addition, lead and silver were mined as well.
In 1954, a Department of the Interior Geological Survey Bulletin reported that no work was done at the Valentine Mine location since the 1922 report was published. These days, to find any recent images of the mine, you need to look at websites dedicated to old mining ghost towns.
So if you're searching for a nice 'rock' to give to your sweetheart this coming Valentine's Day, I'd suggest you visit your local jewelry store and not the old mine. Some jewelry shops even use the latest technology in XRF to identify and characterize gems.
References:
http://www.nbmg.unr.edu/scans/2190/21900033.pdf – p. 162
http://pubs.usgs.gov/bul/1010/report.pdf