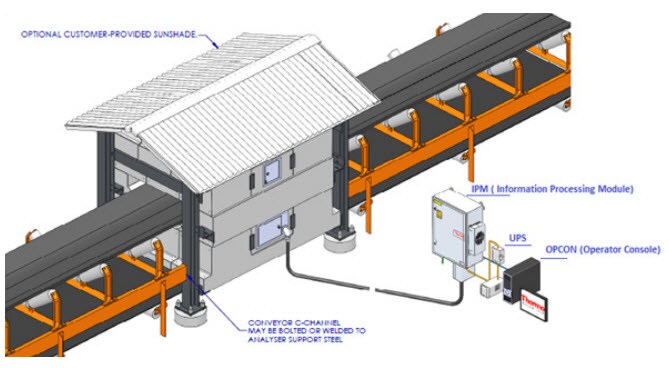 Elemental crossbelt analyzers provide minute-by-minute quality analysis of critical process streams to facilitate sorting, blending and out-of-seam dilution control. With a elemental analyzer, one can control quality, make pro-active control decisions and improve the efficiency of the operation.
An elemental coal analyzer is a specialized analyzer that is utilized by coal-fired power plants and coal producers to help proactively address process variations and ensure more consistent coal blends and improved fuel quality. In the coal blending process, different quality coals are mixed after they are mined to meet the specifications needed for the intended application. It is important that the blended coal meet quality specifications because blending decisions impact the total amount of each product that a mine site is able to sell, and the quality attributes of a product can impact the final sale value of the product, and the satisfaction of the customer.
According to the World Coal Association, coal (which is a fossile fuel), is a
"combustible, sedimentary, organic rock, which is composed mainly of carbon, hydrogen and oxygen. It is formed from vegetation, which has been consolidated between other rock strata and altered by the combined effects of pressure and heat over millions of years to form coal seams….
The quality of each coal deposit is determined by:
Types of vegetation from which the coal originated
Depths of burial
Temperatures and pressures at those depths
Length of time the coal has been forming in the deposit
In addition to carbon, coals contain hydrogen, oxygen, nitrogen and varying amounts of sulphur. High-rank coals are high in carbon and therefore heat value, but low in hydrogen and oxygen. Low-rank coals are low in carbon but high in hydrogen and oxygen content. Different types of coal also have different uses…. [including] electricity generation, steel production, cement manufacturing, and other industrial processes, and as a liquid fuel."
The analyzer usually incorporates either Prompt Gamma Neutron Activation (PGNAA) or Pulsed Fast Thermal Neutron Activation (PFTNA) technology, and is designed to mount around an existing conveyor belt or inline with a sampling system, and analyze the composition of the coal in real-time. The sample stream analyzer should be designed to accept feed from a sample system, control the flow through the analyzer and measure the major coal quality parameters of interest to coal producers and coal-fired power generators.
In addition to carbon and oxygen, there are a dozen other major items of interest that should be measured and reported upon as the coal moves along the conveyor. They include these items as well: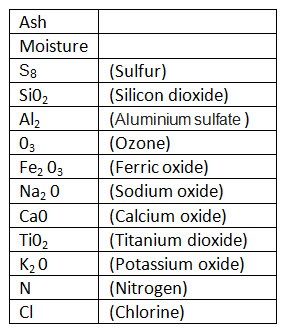 Besides analyzing the coal, a coal quality manager system should automatically calculate:
Heating Value (kcal/kg, kJ/kg or BTU/lb)
Lbs SO2 per million BTU
Volatile Matter
Fixed Carbon
Ash Fusion Temperature (based on customer specific empirical relations)
Knowing these measurements in real-time enables coal producers to control sorting and blending of coals to maximize coal resources, meet quality specifications, reduce shipment variability, control ash fusion, and control preparation plant performance. Having this information is especially important to the coal producers and utilities where real-time knowledge of coal quality is critical, including applications such as load outs, truck and rail receipted coal using auger samplers, and at power plants for "as received" and "as fired" applications.
Knowing these results can help extend the life of the mine because coal suppliers can mine lower quality coals and then blend coals of varying quality together to meet customer requirements. In fact, quality coal blends that meet specific needs can help the environment and the bottom line. Boiler efficiency can be increased when they are fed a consistent coal blend quality. In addition, coal consumption is reduced, harmful gas emissions are lessened, maintenance is minimized, and unplanned outages are avoided. Those measurements can help coal producers reduce pollutants and help the environment. Most importantly, earth's finite resources are used more efficiently.
You can see how these coal online elemental analyzers control waste, cost, and environmental impact in this 6-minute video (scroll to the bottom and click on the Discover the CQM Flex Coal Quality Manager box.