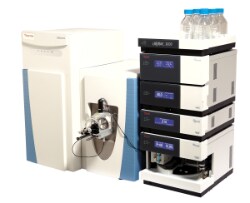 Monoclonal antibody (mAb) therapy is used to to stimulate the immune system to defend itself against particular target cells. As researchers explore mAb treatments further, they are increasingly using mass spectrometry to selectively analyze human therapeutic mAbs for therapeutic development.
According to Antwi et al., current mass spectrometry methods to analyze mAbs are limited and result in unreproducible data acquisition, a lack of analytical sensitivity and poor automation capabilities. Therefore, the researchers describe a MSIA (mass spectrometric immunoassay) workflow (Thermo Scientific) that is better suited to therapeutic mAb pre-clinical discovery and development bioanalysis. MSIA technology combines the performance characteristics of traditional ligand binding with the benefits of mass spectrometry detection.
Antwi et al. spiked mouse plasma with concentrations of adalimumab ranging from 20 to 8,000 g/mL. They then loaded Streptavidin MSIA disposal automation research tips (D.A.R.T.s) with biotinylated anti-human Fc single-domain antibody using a Versette Automated Liquid Handler (all from Thermo Scientific). During incubation, the micro-columns within each of the MSIA D.A.R.T.s selectively trapped adalimumab.
The investigators used a ProSwift RP-4H LC column for liquid chromatography and a Q Exactive hybrid quadrupole-Orbitrap mass spectrometer with XCalibur software (revision 2.2) (all from Thermo Scientific) for mass spectrometry analysis.
LC-MS analysis generated four masses at 148,080, 148,245, 148,407 and 148,565, representing the addition of hexose groups to adalimumab. The masses at 148,203, 148,363 and 148,527 showed mass difference of ~123 Da, suggesting the presence of two sodium and two potassium adducts. The team also observed a linear dynamic range of 125 to 8,000 ng/mL when intact adalimumab was detected with the native structure preserved. When the intact adalimumab was deglycosylated, they were able to detect adalimumab at concentrations as low as ~20 ng/mL.
Using MSIA, the investigators defined a more sensitive system that enables researchers to obtain more robust and reproducible results.
References
1. Antwi, K., Niederkofler, E.E. & Kiernan, U.A. (2015) "A universal pre-clinical solution for the bioanalysis of fully human therapeutic monoclonal antibodies in plasma" [Poster]. Thermo Fisher.