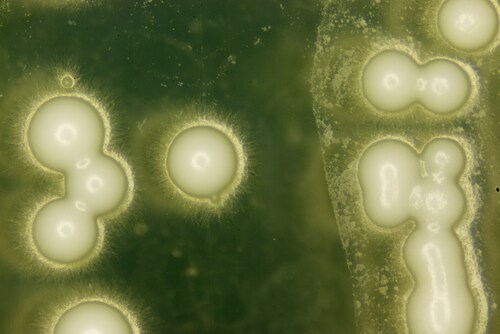 Researchers use isobaric tandem mass tag (TMT) reagents as a component of quantitative mass spectrometry (MS) to calculate protein abundance for multiple samples in a single experiment. When employed with advanced technology like synchronous precursor selection (SPS) and MS3 on the Orbitrap Fusion Tribrid mass spectrometer platform, issues with ion interference are minimal. The only feature that has been missing in such experiments was a diagnostic tool capable of reliably and efficiently ensuring the absence of interference.
Paulo, O'Connell and Gygi (2016) recently offered such a tool: a triple knockout (TKO) peptide standard able to diagnose the absence of ion interference.1 The team protein-extracted and TMT-labeled three yeast deletion strains (each rendered incapable of expressing a single protein: Met6, Pfk2 or Ura2) in triplicate to comprise a TMT9-plex sample. These knockout proteins were ideal for this application because they are abundant in yeast (top 10%), correspond to several routinely identified peptides, do not impact cell viability after deletion and form relatively unique tryptic peptides compared with other yeast proteins.
They subjected this sample to MS on Orbitrap Fusion Tribrid and Orbitrap Fusion Lumos Tribrid mass spectrometers (both Thermo Scientific) and processed the mass spectra into peptide/protein lists. The near-absence (approaching zero) of the TMT signal for each TKO peptide/protein in the pertinent knockout channels serves as a negative control for the experiment, indicating optimal instrument performance free of noise or ion interference. The researchers highlight that this single TKO standard analysis is short (45-minute gradient to quantify at least 10 peptides per injection) and straightforward, yet thoroughly adequate for benchmarking instrument performance.
Paulo et al. presented two different applications of this diagnostic tool to illustrate its versatility. In the first, they applied the TKO standard as a benchmark to compare the two MS instruments. After that run, the team composed a box-and-whiskers plot to compare signal-to-noise measurements. They observed an almost fourfold increase for peptides quantified on the Orbitrap Fusion Lumos Tribrid mass spectrometer when compared with the Orbitrap Fusion Tribrid platform.
In the second application, they applied the TKO standard to compare ion interference between peptide quantification performed using MS2 and SPS-MS3. Using the Met6 peptides from a single TKO run, they determined an interference-free index score (average signal-to-noise value from knockout channels divided by average signal-to-noise value of the other channels). They reported less interference (higher interference-free index score) for SPS-MS3 when compared with MS2-only quantification. They also noted more widely distributed data points for MS2, suggesting interference from co-isolated peptides of varying intensities.
The research team offers this TKO standard diagnostic tool as a simple yet effective benchmark for identifying interference and ensuring high-quality data when using multiplexed protein quantification with isobaric tagging. Other applications could include optimizing isolation windows, setting signal-to-noise cutoff values and determining the best number of SPS ions. The researchers also indicate that this TKO strategy applied instead to low- or moderate-abundance proteins could help evaluate the degree to which interference relates to abundance for a given experiment. While not a solution for interference per se, the TKO standard presented here is a valuable tool for diagnosing interference issues and guiding researchers toward effective resolutions.
Reference
1. Paulo, J.A., O'Connell, J.D., and Gygi, S.P. (2016) "A triple knockout (TKO) proteomics standard for diagnosing ion interference in isobaric labeling experiments," Journal of the American Society for Mass Spectrometry, 27(10) (pp. 1620–1625), doi: 10.1007/s13361-016-1434-9.
Post Author: Melissa J. Mayer. Melissa is a freelance writer who specializes in science journalism. She possesses passion for and experience in the fields of proteomics, cellular/molecular biology, microbiology, biochemistry, and immunology. Melissa is also bilingual (Spanish) and holds a teaching certificate with a biology endorsement.