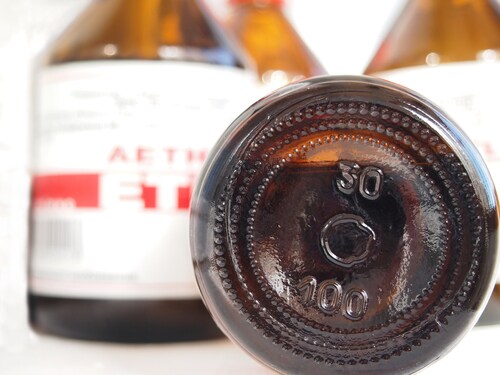 Researchers posit that the cortico-striatal circuitry within the brain plays a role in substance addiction/withdrawal, particularly during alcohol consumption. While there have been multiple studies delving into gene expression and activated neuronal mechanisms within the brain striatum during chronic ethanol use and early withdrawal, Ayers-Ringler and colleagues sought to investigate changes in protein expression.
The researchers studied the effects of alcohol consumption in C57BL/6J mice. Starting at six weeks of age, they kept mice in standard cages under a 12-hour light/dark cycle with lights on at 6:00 a.m. When the mice reached eight weeks of age, the team randomly assigned them to either ethanol or saline/air control groups. They used one cohort for proteomic analyses (n = 4–5 mice per group) and a separate cohort for behavioral testing (n = 9–10 mice per group).
The researchers exposed mice in the ethanol group to ethanol vapor or room air using vapor administration chambers for 16 hours during the dark phase, followed by eight hours of room air in their home cages during the light phase. They repeated this process, known as chronic intermittent ethanol administration (CIE) for four consecutive days, followed by three days in their home cages with room air (withdrawal period). They repeated this intermittent ethanol cycle four times.
Before and after CIE, the researchers tested the preference for alcohol. For the first four days, the mice had access to two water bottles. For the next four days, the researchers replaced one water bottle with a bottle containing 10% ethanol. During this time, the researchers also weighed mice and bottles, and rotated bottles from one side of the cage to the other. During the final hour of CIE testing each week, the researchers collected blood from the tail veins of each mouse, revealing a consistent blood alcohol level among each cohort.
At the very end of CIE testing, the investigators tested the mice for the loss of righting reflex. To do this, they injected the mice with a high dose of ethanol and placed them on their backs on a V-shaped trough. They measured the recovery time, which was the time it took for mice to have all four paws on the ground.
Finally, using mouse brain tissue from mice representing chronic ethanol and early withdrawal groups as well as saline/air control categories, the researchers adopted a label-free proteomic strategy using a Q Exactive mass spectrometer (Thermo Scientific).
Turning to proteomics, Ayers-Ringler and colleagues detected 5,085 and 5,944 unique proteins from the dorsal (caudate and putamen) and ventral (nucleus accumbens) striatum, respectively. The researchers found hundreds of significantly activated canonical pathways. In the chronic ethanol mice, they found a decrease in long-term potentiation, which was the most significantly affected canonical pathway for this group. Other notable signaling pathways include decreased cAMP response element binding protein and PKA signaling. Withdrawal mice had increased dopamine-DARPP32 feedback in cAMP (z-score = 1.00) and CREB signaling in neurons.
The research team also identified proteins with well-established addiction associations, such as such as prodynorphin, cannabinoid receptor 1 and calcium/calmodulin-dependent protein kinase IIα. Another finding was a significant increase in glutamate signaling during withdrawal. Since excess glutamate can cause serious side effects, such as alcohol withdrawal syndrome, the researchers posit that glutamate transporters may hold promise as a novel treatment for alcohol addictions.
Reference
Ayers-Ringler, J.R., et al. (2016) "Label-free proteomic analysis of protein changes in the striatum during chronic ethanol use and early withdrawal," Frontiers in Behavioral Neuroscience, 10(46). doi: 10.3389/fnbeh.2016.00046.
Post Author: Emily Humphreys. Emily has previous research experience in eye development, infectious diseases, and aging. Emily has been a regular contributor to Accelerating Science since 2012.