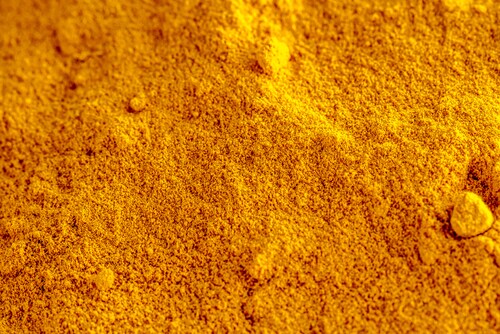 Curcumin is a naturally occurring phytochemical obtained from the rhizome of Curcuma longa. Curcumin has anti-tumor, antioxidant, and anti-inflammatory properties. In addition, it is anti-genotoxic against DNA-damaging agents, it is phototoxic, it can block the cell cycle progression in cancer cells, and it prevents angiogenesis. Furthermore, curcumin has antimicrobial activity against gram-positive and -negative bacteria and has synergetic effects with other drugs in combination therapies.
Drug resistance is an emerging health problem. Therefore, there is a growing need to identify and characterize new potential drugs from natural and synthetic compounds. In order to identify new antimicrobial agents, Reddy et al.(2016) performed a comprehensive quantitative proteomic analysis of the effect of curcumin on Bacillus subtilis.1 
The investigators exposed the bacteria to curcumin for 20, 60 and 120 minutes. Curcumin reduced B. subtilis growth at all time points and caused significant changes to cell morphology. Cells displayed a filamentous phenotype with multiple nucleoids per cell and a drastic increase in cell length proportionally with the exposure time of the drug. Using two-dimensional difference gel electrophoresis (2D-DIGE), Reddy et al. identified nearly 2,000 protein spots. They subsequently performed three sets of analysis with the following results:
| | | |
| --- | --- | --- |
| Analysis | Upregulated proteins | Downregulated proteins |
| Control vs 20 mins |  2 |  2 |
| Control vs 60 mins |  12 |  8 |
| Control vs 120 mins |  11 |  10 |
Among these differentially expressed proteins, ATP synthase subunit beta was common between 20 minutes and 60 minutes. DNA-directed RNA polymerase alpha chain protein was common between 60 minutes and 120 minutes.
Using isobaric tags for relative and absolute quantitation (iTRAQ)-based quantitative proteomic analysis at all three time points of curcumin-treated and control B. subtili, Reddy et al. found 864 proteins in technical triplicates compared to 1,414 proteins using an LTQ Orbitrap Velos mass spectrometer (Thermo Scientific). The investigators checked the quality of iTRAQ data using S-curve analysis of quadrupole-time-of-flight (QTOF) and Orbitrap mass spectrometer data. QTOF analysis indicated differential expression of 20%, 26% and 40% of the total proteome, while the Orbitrap mass spectrometer analysis exhibited 6%, 17% and 40% alteration in the B. subtilis proteome at 20 minutes, 60 minutes and 120 minutes following curcumin treatment, respectively.
Furthermore, comparative quantitative proteomic analysis between QTOF and the Orbitrap mass spectrometers indicated differential expression of 15 proteins in 20 minutes (8 upregulated and 7 downregulated), 81 proteins in 60 minutes (69 upregulated and 12 downregulated) and 210 proteins in 120 minutes (154 upregulated and 56 downregulated). Overall, they found that the coverage of QTOF analysis was quite low compared to Orbitrap mass spectrometer analysis.
Reddy et al. also found that at 20 minutes, curcumin did not significantly affect physiological pathways. However, by 60 minutes, curcumin altered the TCA cycle, glyoxylate metabolism, anaerobic respiration, gluconeogenesis and glycine cleavage. By 20 minutes, it effectively altered fatty acid synthesis, peptidoglycan synthesis, anaerobic respiration, TCA cycle and propionate metabolism.
The authors note that this is the first comprehensive proteomic study of B. subtilis changes following curcumin treatment. Their findings indicate that the cell division machinery is one of the prime targets of curcumin. Therefore, curcumin has potential as a new antibacterial agent.
Reference
Reddy, P.J., et al. (2015) "Comprehensive analysis of temporal alterations in cellular proteome of Bacillus subtilis under curcumin treatment," PLoSONE, 10(4): e0120620.
Post Author: Miriam Pollak. Miriam a Nutritionist specialising in women's health and works from her Bondi Beach clinic. She is also currently completing her Masters by research in nutrition.
Prior to this, Miriam majored in neuroscience as an undergraduate before completing a post graduate degree in science communication. She spent over a decade working in science communication and medical research, collaborating with some of the best oncologists and researchers in Australia and the U.S.